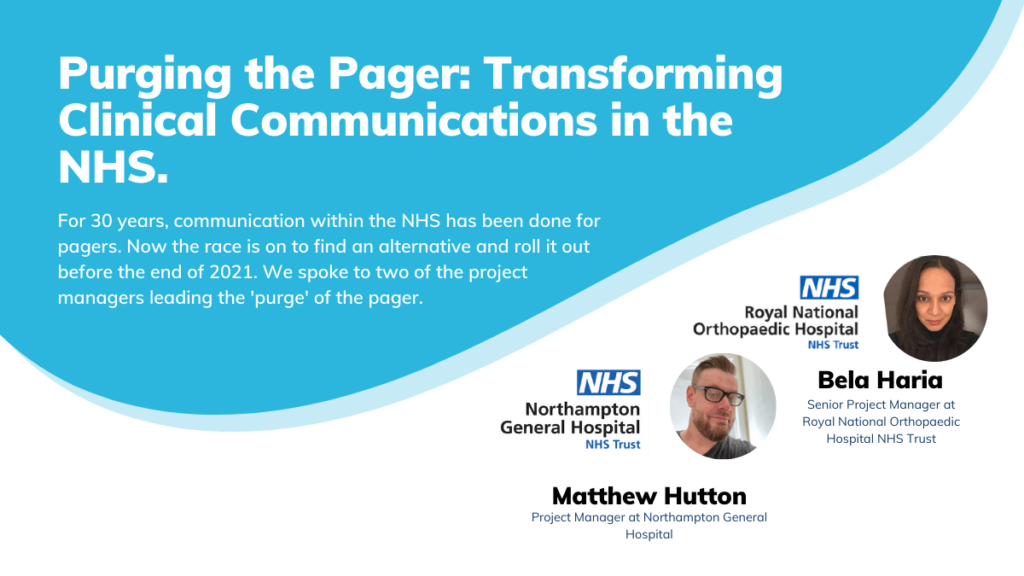 Purging the Pager: Transforming Clinical Communications in the NHS.
Being able to speak to both the technologists driving change within the NHS and the exciting talent vying to join them – I'm in a rather privileged position.
The number of exciting developments happening right now within the NHS is astronomical. Video consultations and video calling for isolated patients are just two of the more popular examples of how technology is being deployed to transform the NHS.
Less known to those looking from the outside in, however, is the silent revolution of Clinical Communications. Pagers, or beepers, have been a staple of clinical communications within the NHS for the past 30 years.
But that's all set to change.
Hancock announced in February 2019 that he was going to war with pagers.
NHS trusts will be required to phase out pagers by the end of 2021, with all hospitals expected to have plans and infrastructure in place to ensure this is possible by the end of September 2020.
Staff are expected to use modern alternatives, such as mobile phones and apps supported through frameworks such as Vocera – to name just one.
I spoke to the technologists and project managers responsible for this project to see how they're fairing in their pursuit of the 'purging of the pager' and gain a few insights into the project scope. In this article there are insights for anyone concerned with change management.
There is no one size fits all in the NHS. Whereas one trust will have one solution, differences in infrastructure and funding will mean that solution might be applicable for all.
I spoke to two different project managers in two different trusts to get an idea of the challenge.
I spoke to Bela Haria, Senior Project Manager at Royal National Orthopaedic Hospital NHS Trust and Matthew Hutton, Project Manager at Northampton General Hospital
Purging The Pager
Having worked for the RNOH for over a decade, Bela has played a pivotal role in the rolling out, deploying and designing of a number of digital initiatives including single sign on for clinical platforms and, most recently, clinical communications through Vocera.
Although 'purging the pager' was a large part of the strategy, it was the final part. Prior to that final phase, Bela has been working on rolling out Vocera as part of a new build of technology that they are implementing with four brand new wards.
For Matthew, who left his previous role in the Charity sector earlier this year to join the NHS, this change initiative is different. Working at Northampton General Hospital – an acute NHS trust undergoing rapid infrastructure expansion – and in a new partnership with nearby Kettering, Matthew is looking at alternative solutions to meet the mandate set by NHS Digital.
What exactly was wrong with the old pager system?
Change for the sake of change is never a good enough reason when it comes to change initiatives. That begs the question: what exactly was wrong with the old pager system that clinical staff were using to communicate? For Bela, the problems start with old, outdated technology.
"The Pagers are reliant on legacy tech that don't have back-up plans. If the pager system goes down, or they enter a black spot where messages can't be received, then we'd effectively have no means of communication."
Other than the fact that some of these pagers being held together by sticky tape, there are more complicated matters that a move away from pagers and towards a more advanced system would solve.
"There's no transparency around who has a pager, whether they're using it or whether it is actually working. There's also no audit trail for communications, so we won't know if a doctor responds or doesn't respond to a call. It's also not instantaneous communication – which, in healthcare, is a must."
Matthew echoes those sentiments and finds that the vast amounts of bleeps being sent out through these dated systems have contributed to what he calls an 'alert fatigue'.
"There's a lot of evidence around alert fatigue. So we send out 500,000, bleeps a year to our staff on 500 pagers, that's a hell of a lot. This can create cognitive dissonance, which can create a problem with people's ability to respond to a request."
Matthew's solution involves filtering the messages people receive so the most important emergencies surface to the top quickly, allowing people to make better use of their time.
What Are the Proposed Solutions?
Bela is rolling out a solution called Vocera.
Effectively a walkie-talkie system, the Vocera 'badge' can be pinned to your collar or hung around your neck. Small enough to be kept safe and discreet, it allows the healthcare practitioner to call people.
Crucially, it's all voice-activated. All a Nurse would need to do is say call 'Doctor on call' to be put in touch with the Doctor on call.
"This is great for shift work, when you don't always know who is on call. It's also has aspects of machine learning to help the device pick up the nuances in people's accents and nationalities."
As previously mentioned, the devices are also trackable and plug into a larger system that can give stakeholders and decision-makers data and insights to make more informed decisions with. Data as simple as whether calls are being picked up can unlock a variety of insights into care support like whether there are particular bottlenecks that need addressing during the shift, for example.
Matthew, who works in a Trust with an infrastructure that is changing fast, is adopting more of a hybrid solution that allows the Trust to get rid of the majority of their pagers and adopt mobile apps to replace.
"We've decided to go for what we call an all in one system. 485 pages can be ditched and we can give people an app which they can either put on a trust device or their own mobile phone. The pagers we do keep are more modern. So they have a way of responding to a page rather than it being simply one way. Instead of phoning someone back, you could hit accept or reject on the actual pager itself."
The Challenges Facing the New Solutions
For Matthew and the rollout at Northampton, the challenge is ensuring that each stakeholder group within the Trust are getting their requirements filled.
"We are absolutely committed to getting each stakeholder group, who will have very different requirements from this final system to get what they need out of it the most. And the more they do that, the more lives we can save."
How Important Was Clinicial Engagement to this Project?
Like with most change initiatives, end-user engagement is key. If the people you want to use the new initiative aren't engaged or involved, you face an uphill struggle when you do come to rollout.
For Matthew, it's absolutely everything.
"I don't see this as a technology project. I see it as a business change project. That means you can't just rock up and give them an app and say get on with it. There's a lot of work to do to make sure it runs how the clinicians and how the site managers want it to."
For Bela, Clinician Engagement was paramount for a few reasons. For one, these are high-pressure environments that sometimes deal in moments where technology can be the difference between life and death. Furthermore, the systems facing change are ones that have been part of practice for over 2 decades – whether it's a good solution or not, it's certainly part of their habits and changing habits is a job in and of itself.
"With a pager you have very little set up. You just hand it over. With Vocera, there is a bit more set up and onboarding required."
Getting the end-users involved early was high on Bela's priority list because this wasn't as simple as handing over new devices. Bela was looking at their communication processes and flows so they could best replicate that in the Vocera environment.
"We needed trainers and product champions to assist people in the onboarding process. It helped with the acceptance of the product itself and helped us create a watertight process."
Advice for those running change initiatives
For those embarking on change initiatives, Bela has this advice:
"It's really important to get your stakeholders involved. It's also key you invest in a strong backup plan should anything go wrong. We invested in walkie-talkies if anything happened to the WIFI or Vocera."
Similarly, Matthew trusts in a focus on the stakeholders:
"Get in there with your clinicians and your stakeholders. Don't think that this is just a matter of replacing an old piece of kit with a new piece of kit. Be out there trying to understand what people are currently using them for what they need from the future."