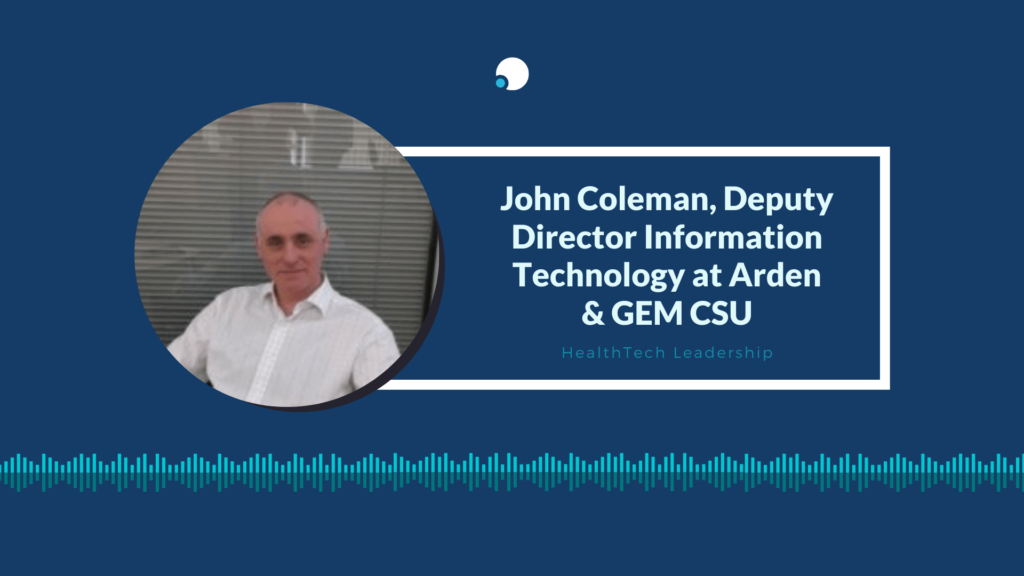 In Conversation With John Coleman, Deputy IT Director at Arden and GEM CSU
Starting off as a software developer for British Aerospace, John went into financial services where he would spend the next 20 years of his software development career. Going down the traditional software development route of managing people to deadlines, John's break would come in the form of admission to the Management Development Programme at the CO-OP.
"This was career-changing for me. It was when I really started to understand what self-development looks like and how important it was for me and my colleagues around me."
Gaining significant experience in managing stakeholders and running projects, John also gained the confidence to look outside of the industry he had been in for the past 20 years. As a result, John took an operations role in the Insurance sector. Here he was instrumental in creating lean technology teams while looking after technology for all of the organisations call centres.
"I hadn't been in change delivery for 15 years so to be on the side that actually implemented change was a real eye-opener."
After that, John went for a non-exec director role at a Hospital in Liverpool where his Father had just had a quadruple heart bypass that resulted in 10 years extra life. By way of giving back to the community, John joined the hospital that had continually underinvested in IT for the past 6 years, as the Associate IT Director.
"The national programme was supposedly kicking off and they were supposed to be delivering all this wonderful IT but it hasn't happened. You had a crumbling infrastructure and no software that supported business level clinical process. They were a long was behind the rest of the world in terms of IT delivery."
Having been in Healthcare every since, John attributes this role – where he was first exposed to the overwhelming levels of purpose involved in a healthcare position – to his long tenure in the industry.
"The first day, I had been to the canteen and sat down with a coffee next to a guy with a drip in his arm. I thought: 'wow. 20 years in financial services, you never get this kind of interaction.'. This really brought it home to me about what I was there for."
Staying within Healthcare, John took various different programme director and IT Director type roles before taking his permanent position at Arden and Gem where he is building a technical team that can realise the tremendous ambition of a modern NHS.
"Transformation changes more than technology. We need to look at people, process and technology. None of those three things work unless you look at culture, unless you turn the lens inwards towards operational effectiveness. That's how these things come together. And that's what I'm doing at Gem."
What Qualities Do You Need to be a Technology Leader in the NHS?
Leadership, regardless of the industry, requires a smorgasbord of complementary skills that can take decades to define and hone. For John, who has worked towards change initiatives everywhere he's been, the qualities that define a technology leader within the NHS aren't unique to the organisation.
"You need to be resilient because success, in some cases, can be as simple as not stopping. You also need to care about the people around you and that means taking a genuine interest in the community."
Vision, an important skill for leaders, will help you guide the people on your team towards success for both the business and the individual. But vision, as John states, is nothing without challenge.
"It's so important that you're strong enough to challenge people constructively to bring out the best in people."
These Issues Don't Right Themselves, They Require Action
As John mentioned above, all the change he wants to create in this space would be nothing without the firm foundations of a progressive culture.
For those who have been following my posts on Linkedin, you'll know that i've been proactively seeking out advocates for diversity within the NHS.
John fully supports the great work being undertaken across AGEM to develop opportunities for minorities and personally promotes networks for women within IT, and is the first to admit that across his career.
"There have been plenty of occasions when we've advertised jobs and ended up with a room full of young, white, middle-aged blokes. Right now, we're trying to encourage people, regardless of background, to consider a career with us."
John's Wife, who is a passionate speaker on this topic, is all too familiar with the statistics around job applications from underrepresented groups.
The statistic John is referring to comes from Sheryl Sandberg's book Lean which states: men apply for positions if they meet just 60% of the requirements, while women only apply if they meet 100% of them.
"These issues don't right themselves, they require action. Right now, it's about amplifying the voices of underrepresented networks and celebrating their successes."
Advice for Leaders
Now leading digital transformation at his trust, John is using his experience to nurture a progressive culture. For those with leadership aspirations, John has this advice:
"Don't expect opportunities to be thrust upon you. We need to own our careers. One thing I learned from my career is to not be afraid to take side steps to get more experience. Find secondments that give you what you need to go to the next level. I don't think this happens nearly enough in the NHS. Take every opportunity to learn something new and the promotions will just come."