The IR35 legislation affects any individual who supplies their services to clients via their own limited company, generally known as a 'personal service company'.
Introduced in April 2000 (view timeline for more information), the legislation (set out in the Finance Act 2000) is known as IR35. Intended to prevent individuals from avoiding tax by 'disguised employment' – working as self-employed contractors through their own Limited Company, even though they do the same job and operate under the same constraints as an employee.
The rules state that any contractors that are in fact 'disguised employees' should be subject to the same tax rules as regular employees, and not be able to access the benefits and tax breaks typically available to contractors working via their own limited company.
This means that if the relationship between the contractor and the client would have been one of employment if it wasn't for the intermediary (the limited company), the worker pays tax in the same way as an employee.
If, when the rules are applied to an engagement it falls into 'disguised employment', then that engagement is known as 'inside IR35'. It means the contractor will have to pay tax and National Insurance like an employee, rather than taking a director's fee and dividends (subject to different tax structures).
What are the tests for an engagement to be inside (or outside) IR35?
Each of these tests provides a distinction between an employee (or 'disguised employee') and a contractor. Some engagements will clearly fall on one side or the other, some will be less clear cut so it's important to understand the full picture.  The 3 'pillars' of IR35 are:
As an employee, you would be obliged to perform the services for your end client personally. A contractor should have the freedom to choose whether to undertake the task himself or hire somebody else to do it. This is a fundamental indicator of self-employment. The contract and working practices must, as a minimum, allow an unfettered right to substitute for an equally qualified, experienced individual. If this isn't possible the engagement would be one of 'disguised employment' or 'inside IR35'.
Direction and control concern how, when, where or what is to be done. The more of these elements that the end client controls the more likely the contractor will be found to be an employee.
Whilst clients invariably want and need to control some elements of this – for example the work must be completed when access to the site is available, or it must be completed by a certain date, if the client directs and controls the majority of how, when, where and what is done the engagement is likely to be 'inside IR35'.
3. Mutuality of Obligation (MOO)
Probably the most discussed and disputed element of IR35 MOO describes the nature of the relationship between contract and client and the obligation of either party to accept or provide work.
For MOO to exist, and therefore employment, there needs to be a continuing obligation on the employee to provide his own services, and on the employer to provide work – or if there is no work, to at least pay the employee. This makes notice periods and engagements covering fixed periods more difficult to argue are outside IR35.
As well as the 3 main IR35 pillars the other factors to consider are:
Financial Risk:
A contractor who risks their own money by buying tools, bearing the running costs of the business and paying for overheads such as insurance is more likely to be viewed as being business on their own account.
Freedom to offer services to others:
The contractor, whilst engaged on a project, should be free to undertake other services for others and to use their skills as they see fit.
Part and parcel of the Organisation:
The contractor should not be seen to be an integral part of the end client's organisation. Where an individual is undertaking the usual work of a business, as opposed to be being brought in to undertake a project or for specialist skills, the engagement is likely to be inside IR35. To this end the contractor should not use any benefits provided to employees such as a subsidised canteen, gyms, attend Christmas parties.
Basis of payment & provision of equipment:
Whilst in many cases a contractor may use their own equipment and be paid on a project completed basis, the absence of these factors do not unequivocally point to an inside IR35 engagement. So whilst worth considering they form a minor part of the whole overall picture.
What changed in the public sector?
From when the rules were introduced until today (and no doubt beyond!) the application of them has been debated, disputed, enforced and challenged in various ways. HMRC have introduced numerous clarifications and tweaks to how the rules are applied. Following various public interest stories and reviews the Government attempted to tackle off payroll working in the public sector, they made small changes initially forcing workers meeting certain criteria to be automatically 'inside IR35', as this developed the Government announced a wider change to making status decisions concerning engagements where the end client is a public authority from April 2017.
Where the end client is a public sector authority it is now the public authority's responsibility to assess the IR35 status of the engagement, and the entity paying the PSC (usually a recruitment agency or the public authority direct) to apply PAYE correctly where the engagement is found to be inside IR35.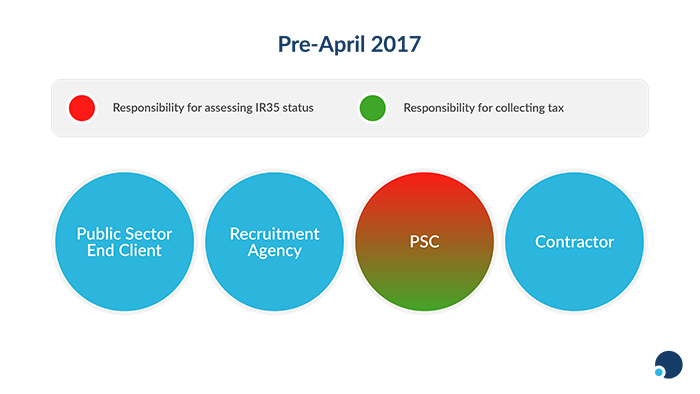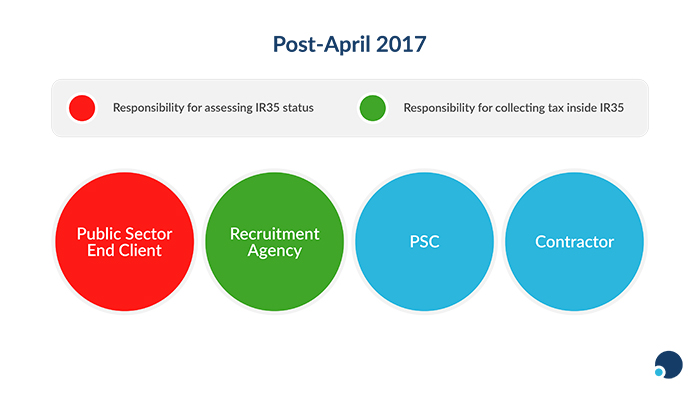 The implementation of this change was contentious at best. Whilst HMRC states the implementation went well and there were few negative impacts that isn't a commonly held view within the industry.
What's changing in the private sector?
Following much learning, for public authorities, recruiters and contractors as well as countless others the Government, as expected, announced the change would be rolled into the Private Sector from April 2020.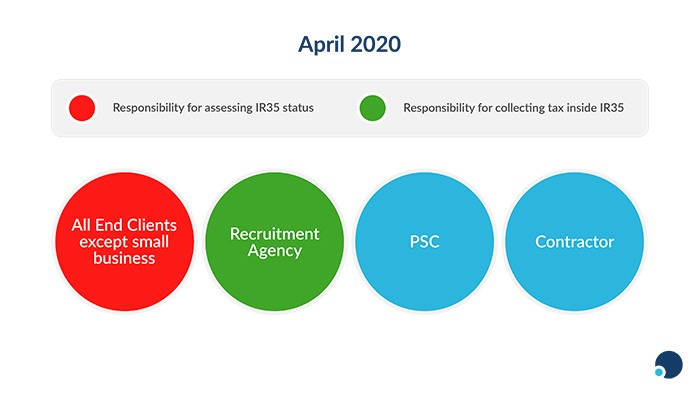 What does this mean for clients?
For all but the smallest of clients (see below) this change means that clients will have to find a way to assess engagements with contractors as being inside IR35 or outside IR35, then the person paying the PSC will have to apply that decision and operate the correct tax process.
Qualify as a small business if, at the start of the financial year meet two of the following conditions:
Turnover not more than £10.2 million
Balance sheet total not more than £5.1 million
Number of employees not more than 50
For clients the concern will come from the 'reasonable care' requirement. The rules state that a client, when making an assessment, must use reasonable care – i.e. have appropriate expertise, role by role assessment, use a standard approach. For some clients this may well be a stretch too far – expecting every business in the country that engages contractors to have an in depth knowledge of IR35 and the application of it does seem fairly unrealistic.
We are supporting our clients in completing role analysis throughout Q2 2019 to ensure clients fully understand where the roles fall in terms of IR35, and what changes to contracts and working practices might be required if they want to engage contractors in an outside IR35 manner without undue risk.
It's important clients have confidence in those supporting with this – failure to take reasonable care means the end client could take all responsibility (and liability) if the wrong status decision is reached and the wrong tax is collected! That's a pretty significant risk.
For more information about IR35 or to discuss how Evolution can help you prepare for April 2020, please contact:
Jeni Howard
Head of Compliance
jeni.howard@evolutionjobs.co.uk