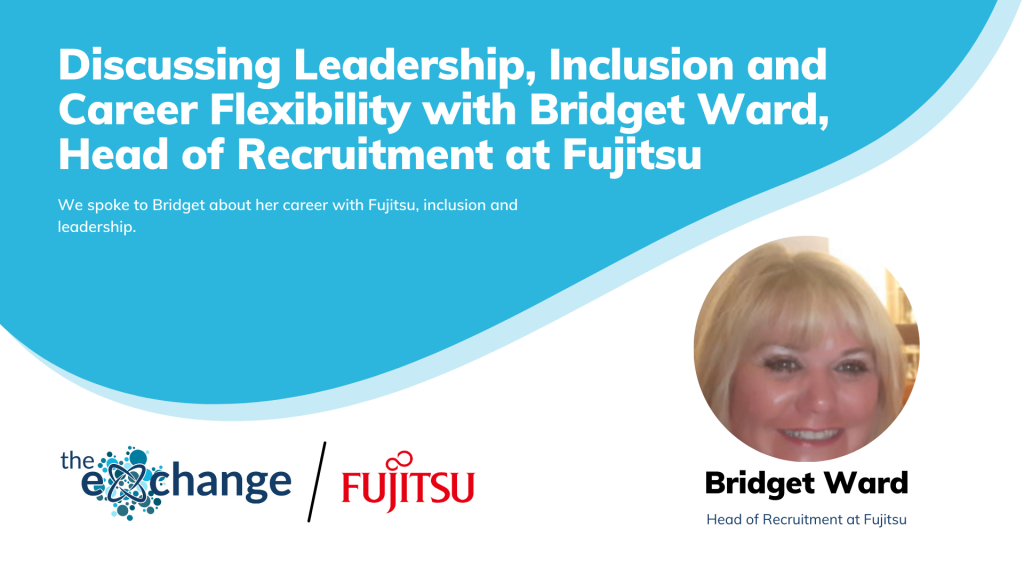 My Career with Fujitsu – Bridget Ward, Head of Capability Operations at Fujitsu
Starting her career as an Insurance Broker, Bridget spent much of her early career in a male-dominated environment. Leaving to have her children, Bridget couldn't face returning to such a toxic environment. Opting to instead to have some time off, Bridget's confidence soon began to pick up again. With this confidence behind her, Bridget applied to work on a project with Fujitsu as it seemed to be a flexible option for her and her family.
The project itself involved working in Warranty and Spares for a project Commodore 64's – what excited Bridget, however, was the freedom the role afforded her to go down her own path to make things as efficient as possible.
"I was a working mom, I didn't have to work nine to five, I could say to my boss, I need to go today, it was never questioned how I would get a true work life balance, which really made a huge difference to me. That made me want to give back. And I think that's one of the key things through my whole career in Fujitsu, this idea that you can do so much with a can do and will do attitude."
Attributing her 20-year tenure at Fujitsu to this freedom and flexibility, Bridget has had a multitude of different opportunities and chance to do things she never had the skills for at the time. With a combination of never-say-die attitude and Fujitsu's incredible support infrastructure, Bridget has been able to thrive in a highly competitive and fast-paced environment.
"If you are one of those people who wants to step up, then there's always something that you can do about it. I am certainly grateful for that."
Options to Explore
The freedom to explore your career options within the company without putting your current role at risk is something that Fujitsu offers to all of it's staff. Through the shadowing of another role, Fujitsu allows people to explore new paths with safety.
"If you join as a technical project manager, you don't have to be that for the rest of your life. You could move into Service Delivery Manager, then that unlocks Delivery Exec roles. I was never blocked in any way in terms of what I wanted to do. I've not had that in careers prior to Fujitsu"
This flexibility to explore new career paths resulted in one of Bridget's key turning points in her career when she moved into Resource Management.
"This role brought together segmented knowledge into a central function. That was a big departure from how it used to be, where certain people held knowledge tight to their chest. We needed to be more open operationally. This was a really rewarding thing in terms of being able to make significant contributions to business efficiencies."
Without the fluidity Fujitsu afforded her, Bridget might never have been able to pivot into what turned out to be one of her most rewarding and formative moments in her career.
Did Leadership Come Naturally?
One of the benefits of this role is getting to speak to great leaders daily. It affordedme the unique opportunity to learn and seek insights from those who have gotten to the top of their careers. One particular point of curiosity for me Is whether leadership came naturally to those leaders or if it was something they had to learn and develop over time?
"I found that as I work with teams, and I've had teams of all sizes, it's about standing up and showing that you are that leader, but you're also a team player. I think mutual respect adds huge value, which then makes leadership easy, because I think if you work in that way, your team don't spend time wondering what you're all about and as a result make better use of their time. "
Having never micromanaged anyone in her entire leadership career, Bridget prefers a laissez-faire approach to leadership, with an extra hand to help when needed.
"If you have people who are tasked to do the role, then let them do their role, but be there to support them if needed And that goes with leadership for me in being able to not feeling so insecure that you have micro detail on everything. Trust your team, and actually that brings about success."
We're More Educated Now
Most of us are acutely aware of the inequalities that surround us, both in the workplace and outside it. Business leaders and managers, certainly, are better equipped to handle issues of equality and discrimination and understand the benefits behind truly diverse and inclusive teams.
For Bridget, although much has been done, there is still plenty more to come as we continue down the path of equality education. But, every year, Bridget continues to enjoy the number of exceptional Women coming through Fujitsu. Her advice: don't limit yourself.
"Don't step back from the opportunity have the confidence and belief that you can step in and contribute."
What does a Software Engineer look like? What does a Scientist look like? If you were to ask young children to draw these jobs, they'd probably draw men. This only highlights how vital it is to raise the visibility of female role models for girls and women, particularly those succeeding in fields long dominated by men.
Seeing is believing, and for those like Bridget it's vital that Women in Tech are given the opportunity to showcase their ability. Bridget references just one of her colleagues , Sally John, Service Director at Fujitsu.
"Her reputation is absolutely key and that's based on how about she contributes and her delivery. She does exactly what she says she's going to do when she says she's going to do it, and how, and that is a great position of power for any resource, not just women, but certainly for women in business because you are driving the raising of the bar for women to be able to hold those senior positions."
From a recruitment perspective, Fujitsu is focusing on those who are embracing the difference in all of it's forms, starting with training for it's hiring managers.
"We want to avoid hiring mirror images of what we've got today because in the future, we won't always need what we've got today and embracing that difference brings innovation and our ability to be ready for change."