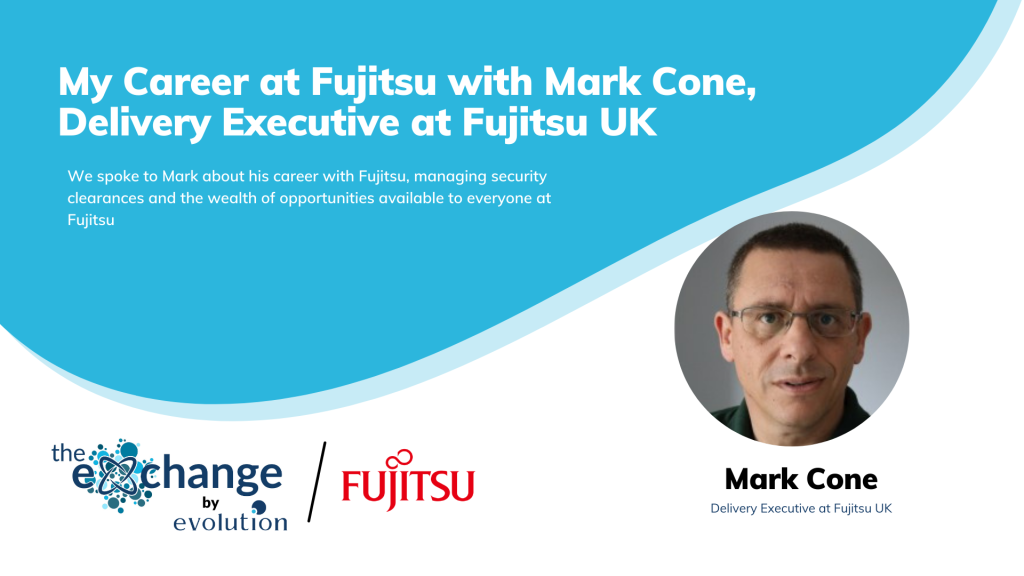 My Career at Fujitsu – Mark Cone, Delivery Executive at Fujitsu UK
Mark was studying Business and Computing at Sheffield City Polytechnic (now Sheffield Hallam University) when he realised he didn't know what he wanted to do. After a few short jobs to bring some money in, Mark was approached by a family friend who worked at what was then ICL (which Fujitsu became majority shareholder of in 1999) with an opportunity as a Junior Hardware Engineer.
"I enjoyed working with different customers on various different sites – but I felt like I had more to contribute."
Despite not having as much of a well-formed progression path for young engineers as they do today, Mark more than made up for it with his drive and determination to get involved with the management side of Engineering. Securing his first Managerial role, Mark progressed towards Engineering Manager, then on to Service Management – where he spent the bulk of his career before making the transition into a Delivery Executive role.
You Have the Opportunity to do a Wealth of Different Roles
Starting work at Fujitsu UK, Mark then moved into the Defence business unit in 1996. Seeking different experiences, Mark was supported in a move that took him out of Defence in 2010 before returning again in 2015.
"I call them junctions – sliding door moments – where you decide which way you want to go"
Every step of the way, Mark was supported by Fujitsu who enabled Mark to explore the wealth of different experiences available within Fujitsu. It this flexibility and willingness to listen to the desires of their employees that has contributed to Mark's almost 40 year tenure at the company.
"I think part of the reason why I've stayed so long is that I've always been able to satisfy my desire for my next role where I've developed my skills within the organisation. I haven't needed to go outside the organisation in order to fulfil those things and I think sometimes people underestimate the power of your own organisation."
There Aren't Many Companies that Have the Vision to Invest in People
Throughout this series I've had the pleasure of talking to many esteemed professionals within Fujitsu. Despite the wide ranging backgrounds and experiences, they all share one thing in common – they all feel like they've been backed by the company.
"Fujitsu have the vision to fund their people. the opportunities are always there for you to do more, to gain more from each role that you do, you know, whether it's training or whether it's experience, whether it's the opportunity to go work alongside somebody else. But you've always got that opportunity if you want it to develop further and to take your skills and your self worth further."
Now, with our more flexible approach to working, there are more opportunities for people to do things outside of the work environment. Whether it's time spent volunteering with a local charity or public institution, Fujitsu can give professionals time to reach your goals.
As part of this initiative, Mark was able to go and study at the Royal College of Defence Studies back in 2006. Over a three-month period, Mark was covered to go and study full-time.
"I came out of that with a much more strategic view on my leadership because I got the opportunity to take time to talk to senior people, and listen to what they have to say. That was then consolidated through syndicate work. I was able to take that forward in the roles that I did subsequently to that, and it became a career defining opportunity for me."
Managing Security Clearances
When a team is stretched thin, the most logical next action is to look for reinforcements. When you're operating within secure systems and environments, like Mark is, it's not that simple.
When vacancies arise through individuals progressing on to their next challenge or contractors, moving on, Mark and his team needs to work with agencies to find the right calibre of professional to fill the requirement and work collaboratively to secure the new resource.
"Security Clearances will always be a dynamic that we have to deal with. It's a challenge, it takes longer to attract the right people and it's particularly difficult if you're dealing with sensitive projects that you can't discuss openly."
Moreover, the systems that Mark and his team work with necessitate an office-based working environment – something that can be a bit of a harder sell as we all get used to remote working.
"People with experience in Agile for example are very much in demand at the moment. Trying to recruit a Scrum Master, for example, is hard when you've got to tell them they've got to be in the office every day."
The Learnings are what Truly Matter
Mark, who has worked in some quite challenging roles, believes that focusing on the output of a particular role has for your career is key to progressing.
"I've been in positions where I don't think I've done particularly well, but I've always focused on what learning I can get from a role and how it's going to help me move on in my career. Very few roles are forever and some naturally evolve. I think it's important to understand that it's the learnings you take from each of these roles, whether the role was a success or not, that truly matter."