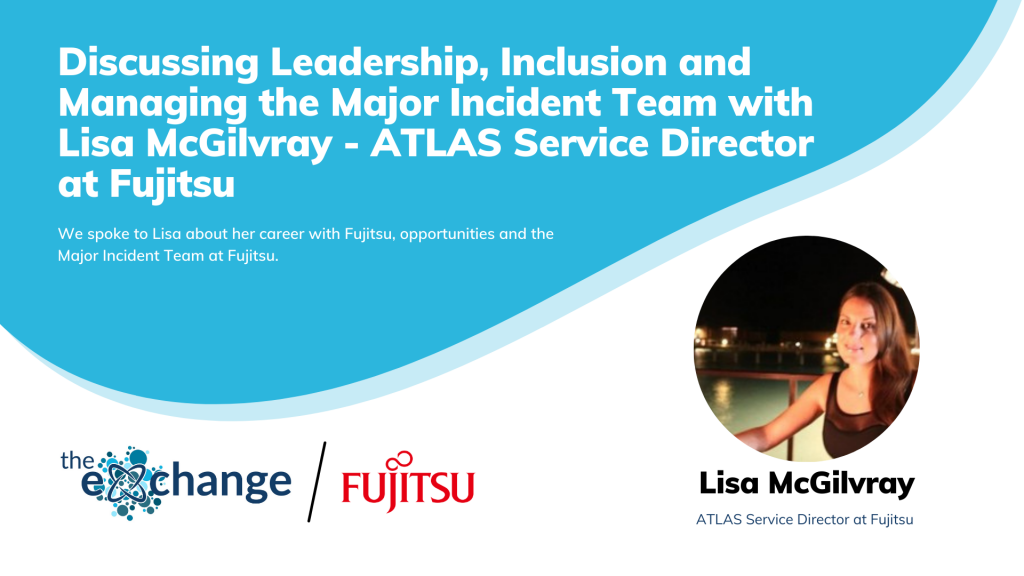 My Career at Fujitsu, Lisa McGilvray – ATLAS Service Director at Fujitsu
After leaving school with a real passion and interest in the travel industry, Lisa went on to train as a Travel Agent. During her two years as a Travel Agent, Lisa became the go-to-person for engaging with IT and support. It was within this side task that Lisa discovered her true passion: IT and technology engagement.
With her sister working within the Fujitsu IT Helpdesk at the time, having moved from Scotland down to England, Lisa saw firsthand the wealth of opportunities the company offered. After her sister helped to secure an opportunity for Lisa to come in on a 6-month contract on First-line support, Lisa dived straight in. Now 20 years later, Lisa has never looked back.
"I am very lucky that Fujitsu has afforded me a lot of opportunities along the way to continue to develop myself."
20 Years of Fujitsu
Working a variety of roles from first-line support to service delivery, Lisa's long and successful career is a testament to her hard work and dedication to putting her own development at the centre of all of her roles – even when they aren't always the right fit.
"I went down the technical route and whilst it interested me, I realised it just didn't make me tick however it did give me the knowledge and basic understanding of the system that has benefited me within the service delivery side of IT."
Having drive is one thing, but a career of 20 years with a single company only happens when the company continues to provide meaningful opportunities.
Nominated to be part of the Fujitsu 'Step Up' Programme, Lisa has been able to access a full development programme led by some of Fujitsu's most decorated senior leaders. Not only has this given her a unique insight into areas of the business that she wouldn't normally get to experience outside of IT, but it has allowed her to surround herself with the people who can help take her career to the next level.
"All the way from my Junior Service Delivery Manager days, I have worked with some incredible leaders who have always offered me the time to help nurture my development and also helped me gain different exposure and experience."
Now in a leadership position herself, Lisa is always looking to help enable those who display a willingness and readiness to learn – even outside of the workplace where Lisa acts as a Business Class Ambassador with a local school offering work experience to give the kids a real snapshot of working life.
"We work really hard across Fujitsu encouraging the next generation in areas such as STEM. Fujitsu strives to be a Responsible Business and it is something that I am very passionate about. I've never really felt the need to look outside of Fujitsu because I've always felt stretched and developed. There are always things that are happening outside of my immediate role that peaks my interest and I can get involved with."
Managing Major Incidents
Throughout her career, Lisa has faced many challenges. Perhaps one of the most challenging periods, was during her time as an Operations Manager, overseeing the Major Incident Team. Working with multiple stakeholders with end-to-end accountability for their services, the team faced a number of crisis and high profile major incidents. In one particular instance, which caused a prolonged full system outage, Lisa and the collective team had to pull together to restore service and get the 250,000 users back online.
"There were a lot of long days and even longer nights but it was a real team effort! When you get to the end of a major incident there is a real sense of achievement. Yes you can have absolute nightmare of an issue but everybody works together and keeps each other going. When you get to the end of it you are proud to be part of the team who resolved the issue and got the Customer back up and running."
Though plenty of remediation work was required after the fact, the feeling of being able to inform the user community that their service is back online is a feeling Lisa can't quite replicate – and it's all thanks to some amazing teamwork. Teamwork that has continued into the COVID-19 pandemic.
As part of her role as Service Director, Lisa has been ensuring the safety of those around her through a measured COVID-19 response.
"I'm really proud to say that, through the team's collective efforts, we haven't had one major COVID-19 outbreak which is outstanding, considering we have had over 100 people working within the building throughout the last year. Another key achievement is that we've been able to keep the service running. We've been able to support multiple services and applications being introduced at pace to support the Customer's response to COVID-19. All of this has been achieved in parallel to the guys working in very different circumstances to what they're used to. That has been one of the proudest moments, not just for myself, but for the whole team who have been involved in it."
Did Leadership Come Naturally?
We can all remember our first role. Too busy focusing on staying afloat in new and unfamiliar surroundings, we often aspire to reach leadership levels but we're too focused on what's in front of us to see yourself in that leadership role.
Reflecting on her career, Lisa certainly never thought she'd end up where she is today. Instead, it's the culmination of a number of diverse roles where Lisa has grown both professionally and personally. Leadership may not have seemed natural, but the traits that make a good leader were quickly coming together for Lisa.
"I was always the first person to step forward and volunteer. When I put my hand up, it wasn't because it was easy tasks, I didn't cherry pick if there was an issue that needed to be fixed I would never shy away from it. I like to try and put my arms around everybody and make sure we embrace it and move forwards together. I think someone else identified that trait in me before I did."
Given the opportunity, Lisa was able to flourish under the pressure of the services area where her skills are put to best use managing complex issues that are often incredibly high pressure.
Investing in Your Career and Your Family
Lisa has been able to continue to progress her successful career while raising two children who are now in their late teens.
At the heart of this lies a company who have never once held Lisa back as a professional, allowing her to make a success of both her career and her family.
"I'm incredibly appreciative of how Fujitsu have continued to support me throughout both of my pregnancies, affording me continued opportunities I never thought could be possible."