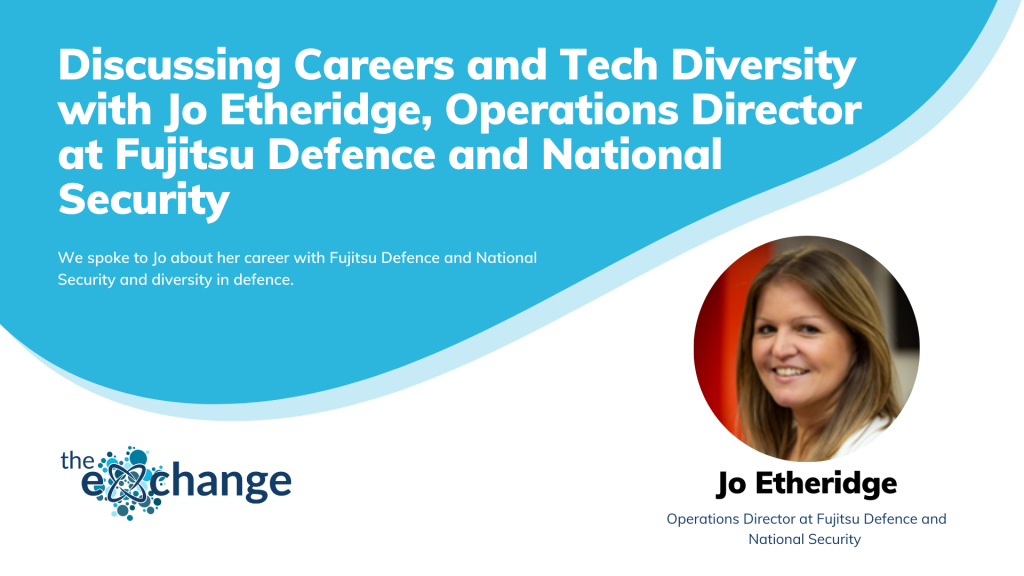 Discussing Careers and Tech Diversity with Jo Etheridge, Operations Director at Fujitsu Defence and National Security
Jo studied Management Science at Loughborough University before joining Fujitsu Defence and National Security (DNS) in 2007 as a Junior Project Manager on the Graduate Programme. Taking every opportunity to experience all aspects of Project and Service Management, she developed a reputation for customer focused delivery and enduring service excellence. Progressing through her career quickly to Senior Project Manager, she was nominated and completed the Fujitsu Talent Management Programme.
Jo then held the role of Delivery Executive where she led the delivery of programmes, services and the customer relationships across a portfolio of accounts within Fujitsu's Defence and National Security business. During this time, Jo led over 300 employees across the portfolio of contracts to ensure each team member has the same committed goal to delivery and continued service excellence.
Jo then moved into the role of Client Executive, leading on large strategic deals in complex environments on behalf of Fujitsu. During this time Jo was lucky to be a member of the 2019/2020 cohort for the Royal College of Defence Studies, graduating from the course in July 2020. This then led to Jo's current role as the Operations Director for DNS.
15 Years of Fujitsu
In a 15 year career at Fujitsu, Jo has worked with a variety of different customers in the defense industry from government to private sector organisations. Jo's tenure at Fujitsu has been both varied and successful with Jo putting the length of the tenure down to the opportunities that working for Fujitsu has afforded her as a professional.
"I've been on some of the UK&I talent programmes and last year, I had the chance to go to the Royal College of Defence Studies as a part time student and graduated from there last July. Every time I've needed stretching, there's an opportunity to stretch me and I'm continually learning even to this day."
Never Say No
Opportunities to further oneself as a professional are one thing, having the willingness and support to actually take them. Jo's 'never say no' attitude has seen her go from strength to strength in one of the world's most successful and competitive tech organisations.
This attitude has defined her Fujitsu career and has helped her smash the deals she's worked on.
"Ever since working on turning around a difficult project and turning that around I was fortunate to be put into areas that needed were challenging and needed some particular attention. And from that, I just kept getting more opportunities. I think key for me was just never saying no; which meant I got a broad spectrum of responsibility. And actually, I think it's really helped me now. One of the benefits of being here as long as I have is that I've built amazing relationships."
With that 'never say no' attitude comes as many challenges as opportunities, but Jo has never been one to shy from a challenge – with some of her defining career moments coming from projects she's taken a chance on and found colleagues around her who are ready to support her.
"I was once put into be an engineering manager and most people would have known that I wasn't technical, I was very much business focused. But I learned a huge amount and actually found some amazing people who I've worked with in the last year that were fantastic and patient and really bought me on. So there's been a lot of people who've given me an opportunity and those are the defining moments when someone just takes a chance on you and goes, I think she can do that."
Thriving Off the Progression of Others
Leadership is a responsibility that some shy from, but others embrace. They emerge as natural leaders capable of encouraging and inspiring.
But despite natural ability, someone needs to take a chance – whether it's the individual themselves launching a new venture or a current leader providing a new opportunity.
For Jo, the support network in Fujitsu has made leadership feel easier than perhaps she first anticipated.
"I've had support and encouragement to ask questions. There are no expectations that I must know everything, and everyone is incredibly supportive. So, it's probably felt easier than it is."
In a leadership position herself now, Jo thrives off seeing others walking a similar path to herself in Fujitsu.
"Because I've progressed through the company myself, I very much enjoy seeing others through that progression. We've got so many talented people, being able to see them progress and then be rewarded for their talents is really satisfying. That's the thing that drives a lot of us in the operations space – seeing those people shine and further their careers."
Stereotypes Hold Everyone Back
The industry that helped protect us through world wars and continues to protect us did so by tapping into the expertise of individuals from a variety of diverse backgrounds. We know, however, that more can be done.
Defence and Tech are both industries that are notoriously slow on the uptake when it comes to diversity with the Proportion of UK Defence business jobs held by women sitting at just 17.5%.
Through education, though, the trend is turning.
Government support for promising female STEM-inspired students is also key. The National Cyber Security Centre (NCSC) recently announced that the number of girls applying for its CyberFirst summer courses shot up by 47 per cent in 2019. This is an especially notable figure, considering that – compared to 2018 – there was only a 29 per cent increase in the overall number of applications for the courses.
Initiatives like this make it easier to put a diverse range of professionals from the industry on a platform to inspire and encourage the next generation.
For Jo, the importance of role models can't be overstated.
"Not being able to see others succeed in a position you might have aspirations for will hold you back. We're quite fortunate that, for example, our Chief Technology Office has multiple women in it, and they're all incredibly inspiring. I think it's about women in leadership being available for perhaps some of the more junior women in the business too."
Embrace Every Opportunity
Finally, we wanted to ask Jo if she had any advice for those who might want to follow in her footsteps.
"Put yourself out there and let everyone else worry about if you're good enough. I think getting over that fear is quite a challenge but it'll unlock so many opportunities for you."