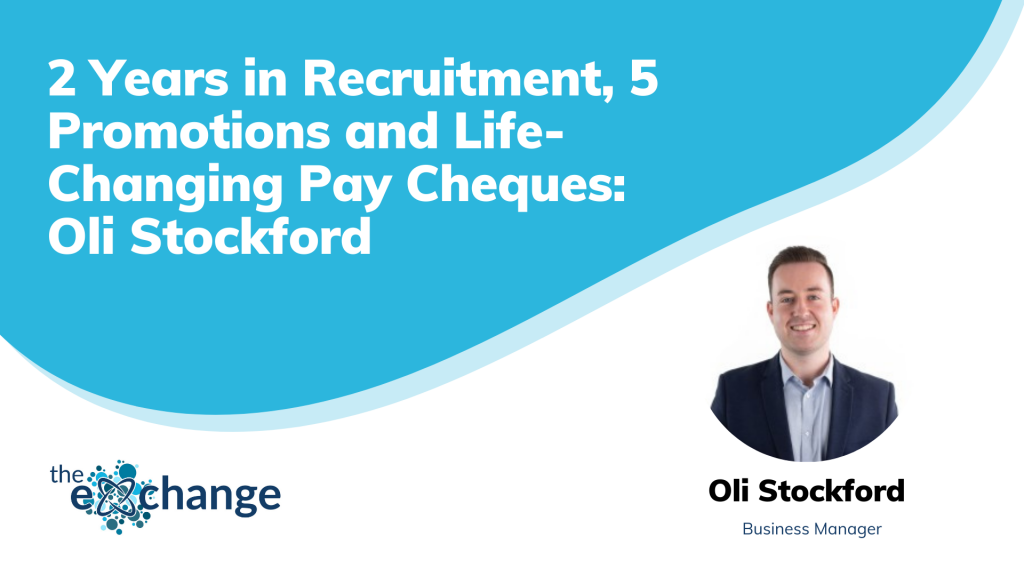 2 Years in Recruitment, 5 Promotions and Life-Changing Pay Cheques: Oli Stockford
I'm Oli and I'm a Business Manager here at Evolution Recruitment Solutions. I specialise in recruiting talented JavaScript, Full Stack Web and Open Source Development professionals into permanent positions in the South-West of England.
What Did I Do Before Recruitment?
When I left school, I knew that I wanted to progress to a managerial position. I knew I had the work ethic to go into a company and work my way up and decided to take this route and earn a living whilst learning, as opposed to going to university.
I first got into sales at Debenhams and quickly progressed to supervisor. I then saw an opportunity to expand my knowledge further and joined Enterprise Rent-A-Car as a Management Trainee. This role allowed me to learn a vast amount of skills in all aspects of business from customer service, business development and account management to running a fleet of vehicles and managing a branch. My favourite part of this role was definitely the sales aspect and being able to build relationships with customers and offer the best solutions, whilst providing an excellent service.
What Made Me Join Evolution?
I was attracted to the Trainee Recruiter position at Evolution as I knew that my skills in sales and customer service were very transferable to the role and I saw a real opportunity to build a career the way I wanted to and at my own pace. The earning potential in the role was a huge appeal, as well as knowing that I could put as much into it as much into it as I wanted and that the rewards would reflect that. I really liked the clearly defined path for progression where I didn't have to wait for jobs to come up, or for people to leave as this is what had hindered me in previous roles. The ability to have a more flexible schedule was ideal with having 2 young daughters, I fully believed in the purpose and values of the company and really got along with everyone I met during the interview process. I was sold!
Starting Out
About 2 months into my career at Evolution, I realised that running my desk was like running my own business. I was provided with all the tools and resources through the training scheme and had all the support I could have asked for; I knew that the rest was down to me! I switched my thinking to more of an entrepreneurial approach and planned ahead with a clear strategy and plan – you wouldn't run a business one week at a time so I knew to be the most successful, I had to ensure that I always had a constant flow of new work and a healthy pipeline. I think this shift in my thinking is what has enabled me to focus and perform consistently.
My Journey So Far
I've just celebrated my second year anniversary at Evolution and can honestly say it has been the best two years of my career. I won "Trainee of the Year 2019" after my first six months in recruitment and went on to break to the company record for the highest permanent billings in a year ever achieved in Evolution's 20 years in business. I then went on to win "Consultant of the Year 2020" and "Most Valued Player of the Year 2020" which is an award voted for by my peers so that was amazing to win. Along the way I have picked up many other awards and I'm so proud to achieve my fifth promotion since joining Evolution to Business Manager.
I'm so grateful of all of the opportunities and support I have been given because not only has this allowed me success at work, I have earned a life-changing amount of money which has enabled me to achieve a number of things in my personal life. I have been able to provide a great standard of living for my partner and 2 daughters, soon to be 3 as we have another daughter on the way, pay off all my debt and book our wedding in Mexico next year.
What's Next?
Anyone who works with me knows that I never stop and I'm always looking at what's next! I have made a good start towards my next career goal which to become a Business Director and from here, I hope to mirror the success of my Manager, James Dyson and build an incredible team around me by 2023. From a personal perspective, my next big goal is to buy a house after our wedding.
My Advice to People Considering a Career in Recruitment
Do it! If you are prepared to work hard and sacrifice some of your time in the evenings to earn life changing pay cheques, and you want be truly valued for the work that you do, there is no better place to achieve your goals than Evolution. Contact Nicola Roberts from our Internal Recruitment team for further details on our current opportunities.