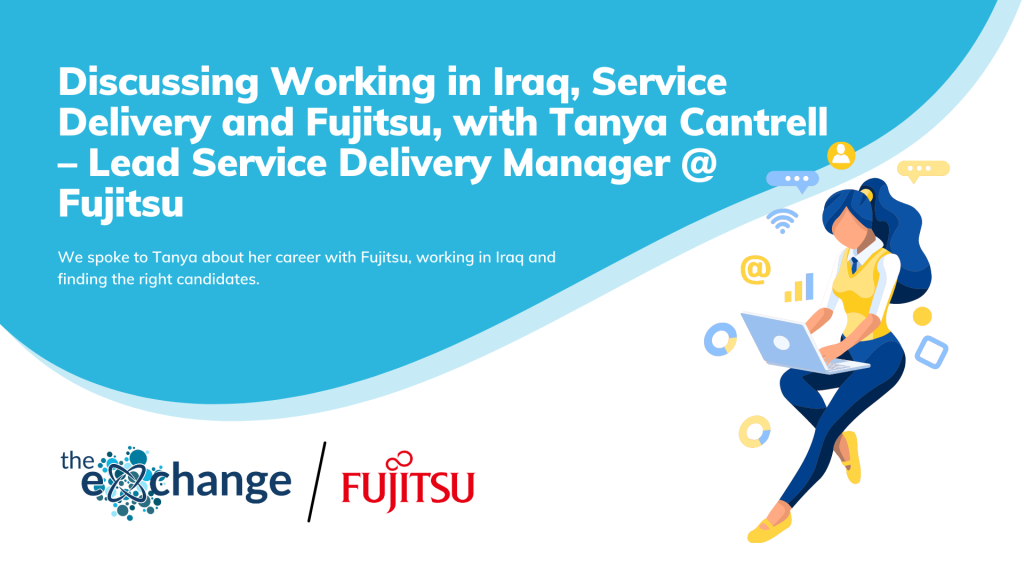 My Career with Fujitsu – Tanya Cantrell, Lead Service Delivery Manager @ Fujitsu
Tanya started working for International Computers Limited (ICL) in 1998. Coming from Napier University, it was Tanya's Step-mum, who was one of the Service Desk Operations Managers who shared the news of new roles being made available in the Feltham office. Rather than making a full commitment at the age of 18, Tanya undertook a couple of days work experience which allowed her to dip her toes into the waters of the Service Desk Capability. After a successful few days working in the Feltham office, positions in Edinburgh, where Tanya was living at the time, came up. Having been put forward for those positions, Tanya secured an interview and was offered a job that very same day.
Starting off as a Field Resource Controller, Tanya worked with 15 Engineers delivering and supporting the Retail account across the central belt of Scotland and also managed 3 engineers who looked after the petrol sites across Scotland. After a year of supporting this account successfully, Tanya secured a move into Defence and spent the next two years on the Service Desk supporting the MOD.
"Everything was exciting. I was supporting the armed forces, and it was a real buzz!"
After getting a solid grounding working on the Service Desk, Tanya's interest in the more technical environment resulted in a move into the 24 hour second-line support team and worked there for a couple of years before progressing into the Team Leader position. It was during that time that Tanya realised that the technical side of her role wasn't exciting her as much as her passion for people management.
"I have a real interest in helping and supporting people to develop and progress and realise their own potential. I have a real sense of pride knowing that I play a small part in helping them to achieve their goals."
From there, Tanya worked in a number of junior management positions across Fujitsu culminating in her being deployed to the Middle East to support the customer in an operational site. The Service Desk Manager role involved overseeing the team of engineers based in Iraq to provide a breakfix capability supporting the deployed users.
"You Don't Get Much Closer to a Customer Than Lying Alongside Them on the Floor During a Mortar Attack" 
Working on six-month rotations, Tanya spent two and a half years in Iraq. With complex challenges and multiple opportunities that involved a huge level of adaptability, Tanya's time on deployment was truly formative and has contributed to the professional she is today.
"It was such a unique environment, working and living with the customer in an extreme and hostile environment. You don't get much closer to the customer than lying on the floor alongside them during a mortar attack – this was a pinnacle moment in my career."
Returning to the UK, Tanya diversified her portfolio by moving into the Major Incident and Problem Management disciplines before another exciting opportunity arose to work in the Middle East working in a more senior position. This opportunity took Tanya to Qatar with the responsibility of setting up the Service Desk function and associated engineering provisions to enable the team based in Iraq to migrate to as the service was being decommissioned in that location. After two years she was then promoted to the role of the In Theatre Manager with responsibility for the entire overseas operation.
"I realised I had a bit of flair for listening to the customers' needs and working with them to collaboratively to identify the best way to deliver their requirements. I had that eureka moment – this is what I wanted to do!"
Tanya's time in the Middle East, some six and a half years of it, came full-circle when she was responsible for closing service down in 2014. The lessons learned and experiences gained however, have stuck with her throughout her career back in the UK.
"Due to the locations involved, some of the challenges involved engineers who required to get home quickly due to domestic/compassionate circumstances. When it's an operational environment it isn't always that straight forward to orchestrate, but their welfare was paramount. We worked directly with the Military personnel to coordinate the arrangements required and expedite the personnel to get home keeping their loved ones and stakeholders up to date."
Finding Suitable Candidates
When a team is stretched thin, the most logical next action is to look for reinforcements. When you're operating within secure systems and environments, like Tanya is, it's not that simple.
When vacancies arise through individuals progressing on to their next challenge or contractors, moving on, Tanya and her team needs to work with agencies to find the right caliber of professional to fill the requirement and work collaboratively to secure the new resource.
"We can't afford to just have a bum in a seat – we need the right person, who is comfortable in challenging environments. The military have a very unique way of operating and for some people, this can be very different from what they have previously worked in."
There are Always Opportunities
With a career that has spanned across 20 plus years and 2 continents, Tanya has worked hard to get where she is today but like all careers, Tanya's started with an opportunity.
"I'm especially grateful for the opportunities I've been afforded by Fujitsu. I know that by demonstrating my worth and putting in the hard work, there is always a new and exciting opportunity for me to potentially explore."
Finding new opportunities is one thing, providing the right framework and support for success is another. Fujitsu have, on multiple occasions, moved around resources and redistributed strengths to support and guide Tanya, drafting in professionals who compliment her own unique skill set. This continued support has kept Tanya engaged for 20 plus years.
"Being deployed really piqued my interest and even coming back to the UK after being abroad for quite some time, working in an environment that was similar to what I was doing overseas, but back in the UK, has kept that continuity going and allowed me to follow my passion of working with the customer to help deliver their outputs."
Tanya's team which at one point was compiled of 50/50 split of contracting and permanent staff has now transitioned into a team of mostly permanent employees due to several contractors taking the opportunity to convert to permanent employment within the team. .
Having a Real Impact on Frontline Command
No two days are the same for Tanya. Every account that Tanya and her team supports has their own processes and procedures that evolve over time.
Anyone interested in working in a unique and bespoke customer environment where they can have a real, tangible impact on frontline command should join Tanya's team.