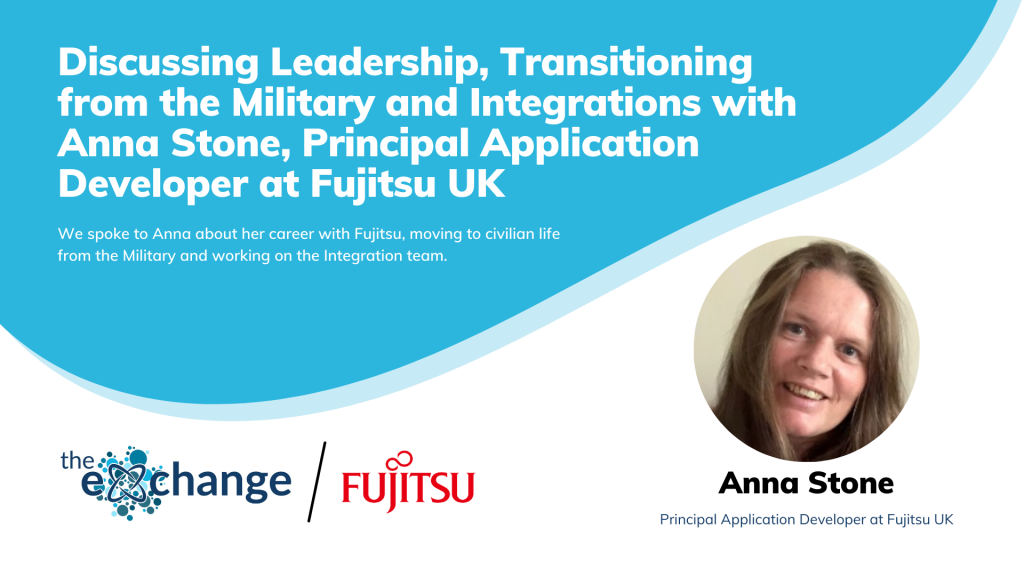 My Career with Fujitsu – Anna Stone – Principal Application Developer
After serving in the Royal Air Force for nine years, Anna transitioned back to civilian life with IT qualifications in tow and was quickly approached by Fujitsu who were in the middle of rolling out large defense systems for the armed forces. Initially engaged on a six-month contract as a third-line engineer, 15 years later, Anna is still enjoying life at Fujitsu.
I Have My Ideal Job
When a project is won at Fujitsu, the Design Architects will work with the client to capture their requirements. From then on in, the integration team (Application Developers) use the designs to build a living, touchable, fit for purpose system for clients to interface with.
The Integration team are an integral part of the new systems journey into existence, right from the initial build of the system from bare metal servers all the way through the bespoke builds of each of the servers, into IT Health Checks (ITHC) and then into live service. As an Integration engineer we make those designs and ideas a reality.
Anna has worked in the integration (Application Development) team for the majority of her time at Fujitsu and hasn't looked back.
"The very best bit about being an integrator is when you walk past a system that's now in use that you helped build, you can look at the team that's been employed to work that system – all the engineers, managers and Customers – all those jobs are there and exist because you had that little part in that building that system. It's massively rewarding."
Integration sits at the bleeding edge of tech. When a new bit of tech comes in as a requirement for a system, an integrator will know about it because it's their job to learn the nuances of the application or software so they can seamlessly integrate it into the rest of the system. For all intents and purposes, the integrator is the explorer and experimenter of the technology world.
"I've always said that my ideal job would be to sit in in a room full of brand-new tech and just to play and that's pretty much what I do for a living so I've got my ideal job to be fair. It's amazing being able to have not just courses on new tech but getting your hands on it too. The chance of learning new tech and, and never becoming stagnant in a role is massively contagious to me. I love it."
Stepping Away to Step Up
Anna's Husband is in the Military and, as such, that means that they don't always get to live together or spend much time together.
In 2016, Anna took a career break. Partly motivated by her desire to try something different, Anna's main driving force was her desire to live a normal life with her Husband who, also in the Armed Forces, had never been able to live with Anna.
Moving to Oxford, Anna worked in the Civil Service and was also able to fulfil a childhood dream of working with Racehorses.
For Anna, this period wasn't just a welcome break – it was also an opportunity to realign and realise what she truly wanted from the rest of her career.
"I really missed being hands on in data centers, customer sites and learning new stuff everyday. If you're a tech head like I am, you're always going to miss it."
You Never Stop Learning, You Never Stop Improving
As a Corporal in the Military, Anna had already developed many of the soft skills needed to be successful in her civilian career. Embarking on the Leadership courses Fujitsu offers was a way to continue to hone them enabling the continual development that motivates Anna.
"You never stop wanting to be a better person, a better engineer, a better manager or a better leader. I was taught by a warrant officer about 25 years ago that the mark of a very good leader is to lift people, lift your team to be better than you. And that's always stuck with me. And certainly, that's what I always try to do."
And it's this advice that Anna shares with those who might be starting down their professional paths.
"I would encourage anyone with a passion for wondering how things work to look at a career in IT. Our strength in the technical space comes from our diversity and inclusion, all are welcome. Diverse backgrounds and life experiences are integral as all bring new ideas and solutions to table. Never stop learning, never stop questioning, oh and don't take yourself too seriously whilst learning and growing this is a journey, no one's code works first time!!"