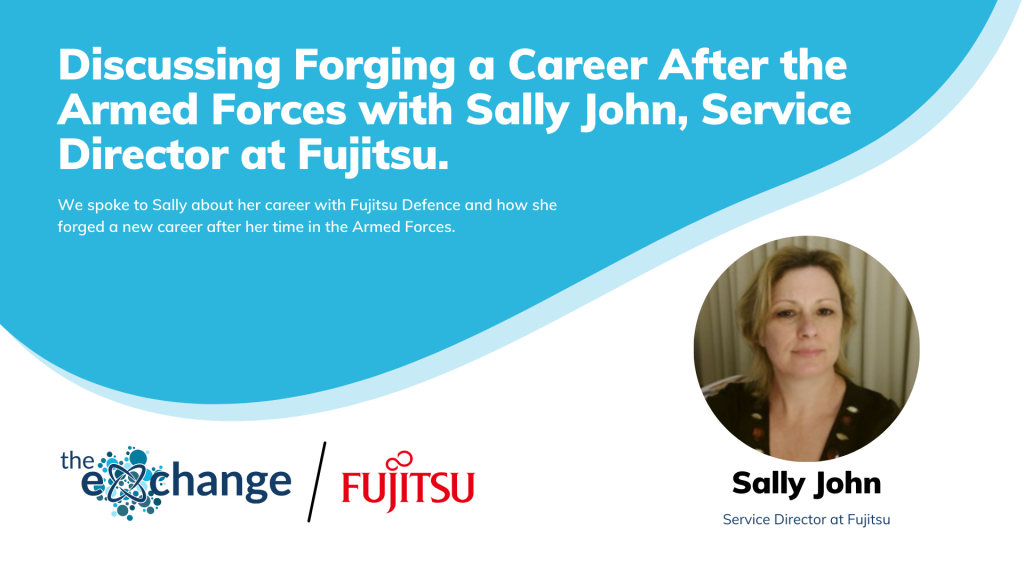 My Career at Fujitsu – Sally John, Service Director at Fujitsu
Sally joined Fujitsu following a stretch in the army. After reaching the point where she decided it was time to try other things, she served one years notice and took a career break for a couple of years. During this time, which she spent on working on her family farm, volunteering for the territorial army, travelling and other part-time jobs, she kept in touch with several people in the army. A Sergeant Major in the unit adjacent to the one she had worked in got in touch about an opportunity at Fujitsu and her career began as a Security Officer on a new site.
During a career at Fujitsu spanning over twenty years, Sally has worked her way up through security roles to service delivery, and finally to her current job as Service Director.
Throughout her challenging and varied career at Fujitsu, Sally has been given the opportunity to develop and further her leadership skills and travel both across the UK and internationally.
Transitioning from Military to Civilian
The strong veteran presence within Fujitsu eased the transition from military to civilian, particularly in the security team which was actively looking for military experience. Having come from a fairly autonomous unit, the change from army to Fujitsu was not a big one for Sally.
"There were quite a lot of us that were ex-military on the project we were on then. It seemed like a lot of people were anyway. I don't think I had any particular problem transitioning."
A successful career with a company is all about the opportunities offered, and for Sally those opportunities at Fujitsu have kept her interested, fulfilled and passionate from the start. From swift progression to plentiful travel, she has been able to challenge herself and succeed.
"I did two years at my first site, where I was recruited into work, where I started off. But then, I think nearly every two to three years from that point on, probably for the first 15 years or so of my time in Fujitsu, I went to a different location. It was the same sort of roles, but I went from security officer to senior security officer to team leader to site manager. I progressed quite a lot, as I went. And so it almost felt like I was still being posted."
Leadership Perspectives
Leadership is something that many people try to succeed at, but it can be extremely difficult to get the balance right. Sally was given the opportunity to lead early on in her career at Fujitsu, when she was sent back to manage a team that she had previously been a part of. She was the youngest of the team, and one of only two females, and the shift was a challenge to begin with.
"That probably was quite a challenge because it's a whole changing dynamic, you see how teams work, then, don't you?"
Despite the potential issues here, Sally rose to the situation and utilised the skills that she had developed during her time in the army.
"Certainly from the forces, you come away from there with a can-do attitude and just get on with it. I suppose I learned how to how to take on challenges, difficulties, and you just sort of accept them, and you work through it."
The skills that make a good leader are hotly debated, but most agree that emotional intelligence is key to managing a team effectively, along with superior communication and organisation skills.
Sally's natural people skills have helped her when leading her teams, and they are one of the reasons she has been so successful in her role. By taking the time to understand each member of her teams, she is able to help them work effectively and efficiently.
"By engaging with a team, understanding each individual, you get to understand what makes them work. I don't think I was ever on any sort of power trip or anything like that. I always work with people rather than against if possible."
Rising to the Challenge
In any job, there are always challenges that arise. How we deal with those challenges is part of what leads to our successes and failures. Sally has dealt with her own difficulties face on and with an admirable mindset. One of the most challenging events in her career to date was her stint in Iraq, where her team were supporting British and coalition forces with different computer systems. The project involved being away from families for long periods of time and the unique strains of being onsite in an active warzone.
Sally faces every challenge – including this one – by assessing them calmly, taking steps to overcome it and working through to the final outcome. Her view now of her time in Iraq is one of an interesting moment in her career.
"I've never looked back on it in a bad way. I'm not sure I look back on any of my roles, or locations, jobs as a bad time, they all have their moments, and they're up and down. But on the whole, I think I just get on with it."
Sally shares this mindset with those on her teams, helping them to view difficulties as simply an interesting problem to be solved.
"We had a few issues going on that were bigger than the normal ones just recently. I suppose it's what makes it interesting when we have these problems. If everything is running smoothly, there's nothing to do. Actually, life gets a bit boring. It only gets interesting when something does go wrong. Now, you don't want that all the time, clearly. But you know, sometimes those are the bits that make life a bit more interesting."
Don't Be Afraid of the Next Opportunity
For those who are at the beginning of their career, Sally's advice is clear. It is important not to be afraid of what the next thing might be, but instead to view it as a chance to grow and improve.
"If people are coming to you and asking you to do something, it's generally because they believe you can do it. So, if someone is asking you to come and do something, you should probably largely see that as a good thing. You know, they're seeing you as that person that can move things on or improve things or take it to the next level, they see you as the right person in that thing. So, don't be afraid to take the baton if someone passes it on to you."
It is also important to accept challenges rather than fight them. Sometimes things go wrong, and sometimes things are difficult. Changing your mindset to acceptance can reframe those difficulties and make them much easier to overcome.
"Sometimes I think 'what have my major challenges been?', and I struggle to think of them per se, specifically, because as they come along, you break it down, you work it out and get through it."