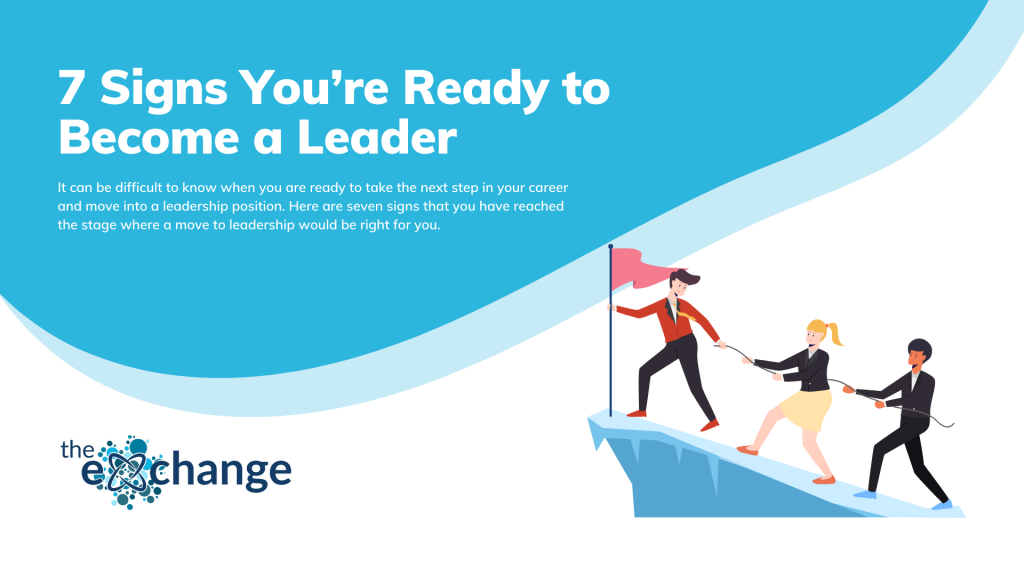 7 Signs You're Ready to Become a Leader
It can be difficult to know when you are ready to take the next step in your career and move into a leadership position. It could well mean leaving a role you are comfortable with and moving into the unknown, perhaps with a new company. Before taking the plunge, it's important to analyse your strengths and weaknesses to ascertain whether you're ready to lead.
Here are seven signs that you have reached the stage where a move to leadership would be right for you.
1. You Communicate Well 
Communication is a vital leadership skill, particularly in the technology field. The ability to succinctly communicate instructions, feedback to stakeholders, manage conflict and stand up for your team is crucial to becoming a good leader.
In tech roles, it is most often the leader of a team who will need to communicate usually highly complex projects and results to others who do not have the same level of technical knowledge. You will need to be confident in your ability to convey this in a way which is easy to understand without minimising the amount of work that has been carried out.
2. You Can See Things from Others' Perspectives 
Key for a successful leader is the ability to empathise. A large part of this will be with your team – understanding how they may feel about the day-to-day feedback they are being given. Likewise, there will be occasions where conflict arises (whether that be between members of your team, or between different teams in the business), and it is essential to be able to understand each point of view in order to come to an agreeable solution.
In fact, this is seen as an essential leadership quality for many. It will mean that you can understand root causes behind poor performance and help you to support those struggling employees to achieve their goals.
3. You Can Ask the Right Questions 
No manager can be an expert about everything, and the best leaders need to know when – and which – questions to ask to deliver projects efficiently. Consulting with others and finding exciting new ideas, wherever they come from, is part and parcel of being a great manager.
Although leaders may sometimes come to the table with ready-made solutions, it is far more important to listen to others, to gather input from a variety of sources and develop solutions based on this. Not only does this create outcomes that are creative and collaborative, but it shows your team members that you value them too.
4. You Enjoy Responsibility 
Before you step into leadership, it is important to pause and consider your motivations for doing so. Do you want the extra responsibility? Responsibility brings with it a great sense of worth and job-satisfaction, but it has its own stresses.
Some people thrive on this, and some people don't. Take some time for self-introspection and consider whether responsibility is what you want. Do you enjoy working under pressure? Are you happy with being held accountable not just for your work, but the work of your team too?
5. People Already See You as a Leader 
When you have been in a role for a while, it is natural – and, perhaps, expected – that you become an expert and more people begin to ask for your advice and input. However, being viewed as a leader is slightly more nuanced than this.
If you find that people often seek out your opinion, come to you for help and advice, see you as someone who can be relied on and count on you to stand up for them, then your colleagues see you as a leader. These are skills that are hugely valuable in a leader and if those around you recognise them in you, then it may well be time to take the next step.
6. You Can Think Analytically 
One of the clearest differentiators between individual contributors and management is the ability to see the bigger picture and think beyond short-term goals. Managers will think outside immediate workload, and consider the wider business strategy.
Leaders will also need to continually assess the impact of projects or work, and be agile enough to amend (or even change completely) processes that are not aligned with the company goals. Planning is crucial here – a leader needs to be proactive, not reactive.
7. You Are Excited to Take the Next Step 
Arguably the most important point of all, are you excited to become a leader? Do you look forward to it in anticipation? Are you ready to let go of your current role? Are you already considering your leadership philosophy?
If so, then you may well be ready to take the leap. As with any role, you will never start a leadership role as the perfect leader, and it is wrong to think of it as an extension of your current role. Leaders require a whole new skill set, and those will be learnt over time. The important thing is to have the drive, commitment and passion to accept the lessons and develop into the best leader you can be.
Moving from an individual contributor to management can be a daunting prospect, but if these seven points resonate with you then you probably have the mindset and skillset to be a successful and supportive leader. View the current engineering and tech leadership roles that we have available here, or contact us today to discuss your requirements.