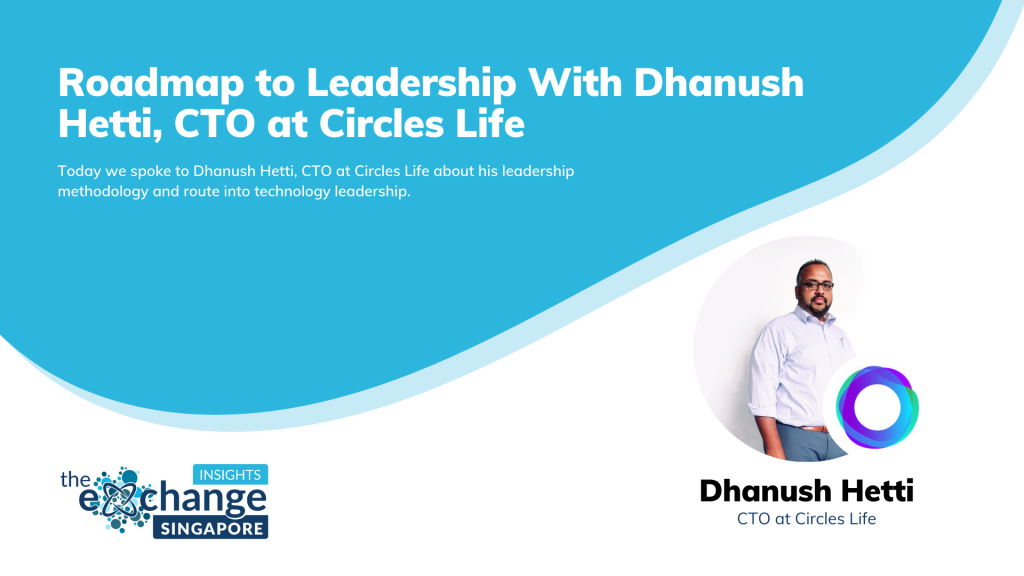 Roadmap to Leadership With Dhanush Hetti, CTO at Circles Life
The route to Chief Technology Officer is a winding, twisting path that many who take technical positions will set their sights on. And although some have claimed that there is an almost 'standard' path to CTO, our experience speaking to technical leaders suggests otherwise.
There are many routes to the top of the technical mountain but these career stories from CTO's were brought together to help those with CTO aspirations plan their next steps.
Today we spoke to Dhanush Hetti, CTO at Circles Life about his route into technology leadership.
The Circles Life Story
Founded in 2016 in Singapore, Circles Life wants to revolutionise the Telco space by giving power back to the consumer and changing the narrative on Telco's in general. As a digital brand, Circles Life has launched globally in three different countries with their bespoke technology platform that allows a Telco company to run their operation cheaper, faster and better.
"At this junction, we are really a technology company, and a telco operator who's building technology for the operators, as well as running our own markets. And we are bringing all this expertise together to really make a difference in the telco industry."
Hetti runs the product and engineering function and has particular oversight on the technology platform they're building, Circles-X. An end-to-end Telco stack that can be quickly installed in a plug-and-play fashion into the telcocore network, CirclesX provides all the familiar functionality and features that many Telco Stacks offer, allowing Telcos to create a unique customer centric experience through end-to-end digitization.
Tinkering With the Old Family Computer
Like many of those who now find themselves in a technology career, Hetti has fond memories of tinkering with old computers. In a family of Doctors, Hetti found joy on his machine that packed a whopping 20MB of Diskspace (Hard Drive). Joy later turned into passion and passion then became a career.
"In the end, that's how I came into software engineering and programming. All of my learnings went into the craft of software engineering, building platforms, architecting complex systems, and doing it at scale."
From Developer to CTO
With a passion for technology from a young age, Hetti had no problem finding his feet as a software engineer. When Hetti moved into his CTO position, he came directly from an individual contributor position. That meant going from no direct reports to being responsible for up to 200+ people.
"I had to learn very quickly to manage people directly and manage through outcomes. There were a lot of mistakes made and, looking back, I was a horrible manager to begin with. But that was where my career started taking shape."
Working as the CTO of a Startup that was acquired by PayPal, Hetti was put in charge of Venmo and was required to manage up, down and sideways. During his Venmo tenure he was recognized as 1 of the top 25 global fintech CTO's (Link). Now at Circles, Hetti is on a different leadership journey that requires different leadership skills.
"How do you scale to that level? It's a different stage of the journey but all of these journeys are shaping my view on leadership and how I do things. Most importantly, I'm still learning & growing as a leader."
 
The journey of leadership is unique and is a personal one 
There is no one-size-fits-all approach to leadership. Each leader, regardless of their industry or profession, has their own unique path that is not defined by titles or how much money they might earn.
For Hetti, who has repeatedly put himself out of his comfort zone and forced himself to learn quickly, believes it's these positions that forced him to learn quickly that made him the leader he is today. When considering his own career, Hetti refers to the five stages of leadership.
Starting with the emerging leader and moving to the strategic leader, these stages can take many years to work through. In some cases, however, these stages can be fast-tracked if the conditions are right and you're exposed to extreme circumstances like Hetti was.
Constantly working on his Leadership methodology, Hetti is now working on his own experiences and knowledge purely for the purpose of serving others, building great leaders, good companies and disrupting industries.