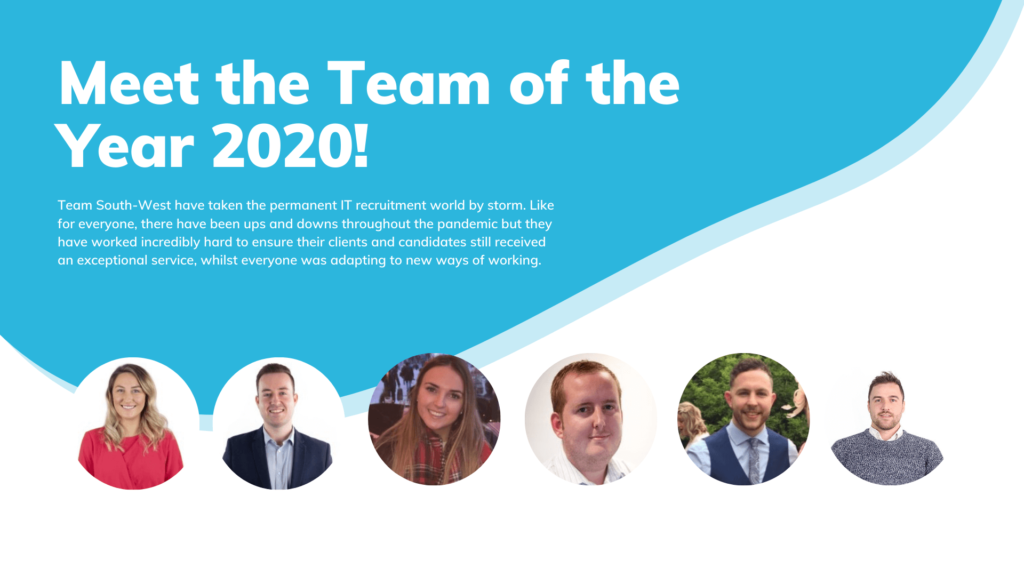 Meet The Team of the Year 2020
Team South-West has taken the permanent IT recruitment world by storm. Like for everyone, there have been ups and downs throughout the pandemic but they have worked incredibly hard to ensure their clients and candidates still received exceptional service, whilst everyone was adapting to new ways of working. They have supported each other every step of the way and as a result, every single team member achieved promotion in 2020. It's no surprise that they were crowned Team of the Year 2020 in our annual awards earlier this month.
Who are Team South-West?
Let's start with recently promoted Divisional Manager and 'Manager of the Year 2020,' James Dyson. James joined Evolution almost 9 years ago as a graduate with a bit of sales experience and he has been here ever since! James is an exceptional recruiter and has built exemplary relationships with his clients over the years which has enabled him be successful consistently. He is a prime example of how Evolution can help you to realise your potential with our ongoing training and clearly defined structure for progression. Now part of the senior management team, he has his sights firmly set on his next goal, which will make him a Director within the business.
Just over 2 years ago, James was ready to start building a team and hired Scott Bridges to join him. Scott served in the military and then pursued a successful career in sales at Tesco Mobile prior to joining Evolution. 4 promotions later, Scott is now a Principal Consultant and has been instrumental in supporting James with coaching and mentoring as the team has continued to expand.
Next came Oli Stockford who joined us from a sales role at Enterprise Rent-A-Car. In 18 months; Oli has achieved 4 promotions, broken the record of the top permanent billings ever achieved at Evolution, bagged himself 3 awards and both Oli and Scott will be going on a once in a lifetime trip (when we can travel again, of course!)
Aimee Clemson was the next member of the dream team and came from a sales background selling print solutions. Aimee joined us during a tricky time caused by the pandemic but that didn't stop her from achieving promotion in just a few months!
Rachel Connolly also joined us from Enterprise and followed suit – a couple of months into the role and she has achieved a promotion with her sights firmly set on the next and this is despite the challenges we are all currently facing.
The newest member of the team is Luke Vickers who joined us at the start of this year from a background in financial services, followed by a successful career in sales at Enterprise. With Luke's drive and attitude, combined with the success around him we are confident Luke will be a great addition!
What's made them so successful?
Team South-West have a high-performance culture where they all hold each other accountable for their activity and performance. Everyone is seen as equal and they work very collaboratively both as a team and with the wider business, sharing leads and also successes and failures in order to instil best practice and learn from each other's mistakes.
Whilst video calls are the 'norm' now, they weren't always. James, Scott and Oli pioneered this prior to COVID and had huge success in nurturing relationships with both clients and candidates. As a result of this, they were ahead of the curve when the pandemic hit and whilst competitors were still figuring things out, they were fine-tuning their process to make it even better.
Finally, the last point to mention is the healthy competition within the team. Whilst everyone is supportive, everyone is definitely looking to beat each other which drives standards and morale.
James and his team have done a fantastic job and we look forward to seeing what's next for them. There are so many other examples of success across the business that demonstrate how we can support people to realise their potential. If you're not sure you can achieve your goals where you are now, then contact me for an informal chat about how we can help.