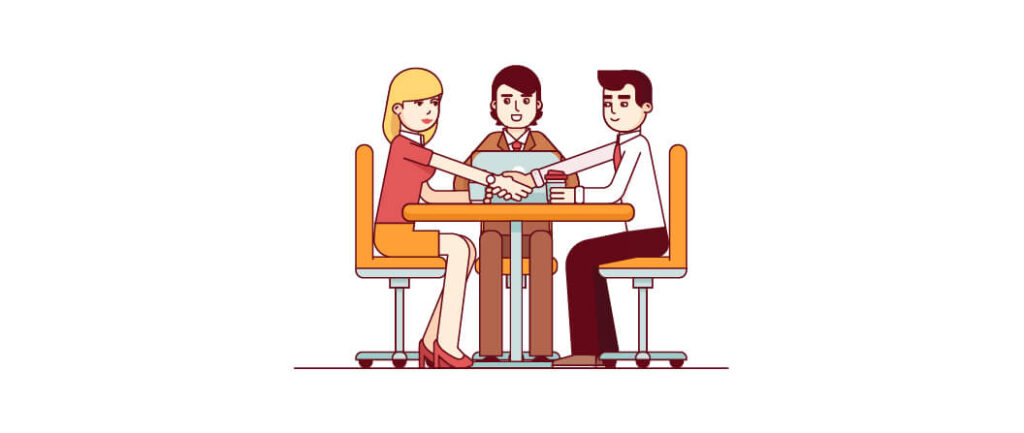 19 ways to make a great first impression at your job interview
The most important part of a job interview is the beginning. It's crucial to make the best impression you can within the first few minutes of your interviewer. Nail this, and you will have a good shot at getting a second interview and a job offer.
The pressure's on from the moment you walk in the door. The list will help you create that great first impression at your job interview.
1. Dress for the job you want
Research the company to learn what's appropriate. Different industries have different dress codes. The appropriate attire can vary greatly depending on company, industry, and location.
If you're speaking to a recruiter before the interview, you can ask them about the dress code in the workplace and select your outfit accordingly.
Men's interview Attire
The default outfit for men is a suit. Opt for a white or light-coloured long sleeved shirt and a suit in solid, conservative colour such as navy, black or dark grey. All clothes should fit well and look clean. Other things to note:
– Leather belt
– Tie
– Dark shoes
– Conservative leather shoes
– Cover tattoos
Women's interview Attire
The fashion for women is more complicated and varied than men due to a larger number of options. In general these tips should still apply:
– Suit in navy, black or dark grey
– If wearing a skirt, the hem should end just below or above the knee
– Coordinated blouse
– Conservative shoes
– Limited jewellery (less is more here)
– Light make-up
– Avoid too much perfume
– Clean nails
– Cover tattoos
2. Check your online footprint
An online background check by recruiters and employers is common practice these days. It is important to know what anyone in the public domain can see about you and tweak your online profile in order to ensure a positive digital footprint.
3. Carry a portfolio
Depending on the role you are interviewing for you can compile a list of relevant projects you have worked on and visual samples of these projects. Bring these along for the interview. As you share your experiences with the interviewers, show them your past projects to create a stronger impression.
4. Bring copies of your CV, a notebook and pen
Take extra copies of your printed CV on clean paper in case of multiple interviewers.
Bring a pen and notebook to take notes. Avoid taking notes on your smartphone or other electronic device. If you really need to take notes on your devices, inform the interviewers beforehand.
5. Smile
Smile when you're meeting the interviewer and whenever it's appropriate during the interview.


Deal with major issues by visiting a dentist or dental hygienist before you begin the job-search process. On the day of your interview, brush your teeth and floss, and avoid eating right before your meeting.
6. Put your phone away
Put your phone away to minimise distractions. Better still, switch it off before you enter the interview.
7. Get your interviewer's name right
Research the names and titles of those you will be meeting. You can look them up on LinkedIn or ask human resources (or the recruiter) for this information. Rather than ask someone to repeat his/her name during a face-to-face meeting, memorising the name ahead of time will help you build rapport sooner.
8. Get the timing right
Check the route to the interview venue so you can be sure to arrive on time. If you're taking public transportation, identify a backup plan in case of delays or closures.
9. Be confident
When you appear confident, you're come across as likeable and it'll be easier for you to build rapport with the interviewer.
To build confidence before the interview, you can try breathing and mindfulness exercises. You can also use visualisation techniques. Imagining yourself succeeding can boost your confidence and self-esteem.
10. Offer a firm handshake
When you are greeted by the interviewer, offer to shake hands and introduce yourself to get the interview off on the right foot.
11. Be kind to everyone
This includes everyone you meet in the parking lot, security personnel and front desk staff. Treat everyone as though they are the hiring manager because your potential employer might ask for their feedback.
12. Maintain eye contact
The eyes are windows into your interest level, confidence and professionalism during an interview. When you establish good eye contact, you'll appear likable. An appropriate amount of eye contact also speaks confidence and self-esteem.
13. Show your passion
Hiring managers want passionate candidates. Demonstrate this by showing why you're excited about the work and the company, and what you can bring to the table.


Want to be updated about job opportunities in IT and Technology?
14. Don't open a conversation with careless remarks
Avoid conversation starters that are too casual. Avoid making comments about personal appearances, politics, religion, or controversial topics.
15. Know as much as you can about the job
Besides researching the organisation, see if you can get some inside information on the company and its employees. Check LinkedIn, Facebook, and your college alumni network to see if you know anyone who can share insider information with you.
16. Know the JD well
Re-read the JD multiple times before the interview. You may want to print it out and take it along with you for the interview.
The JD can be used in your interview preparation too. As you go through each requirement, think of your relevant experience and how you can showcase the specific skills you have during the interview. If you have questions for the interviewers as you go through the JD, jot them down.
17. Know the company
Understanding key information about the company you're interviewing with can help you go into your interview with confidence. Using the company's website, social media posts and recent press releases will provide a solid understanding of the company's goals and how your background makes you a great fit.
18. Be yourself
Be yourself during interview conversations. This can help employers relate more easily to you. This also helps you and employers determine if you are a right culture for the company.
19. Check the interviewer on LinkedIn
Take a minute or two and check out the interviewer on LinkedIn if you can find them. That will give you a sense of the person you'll be meeting with, as well as their career path and tenure with the company.