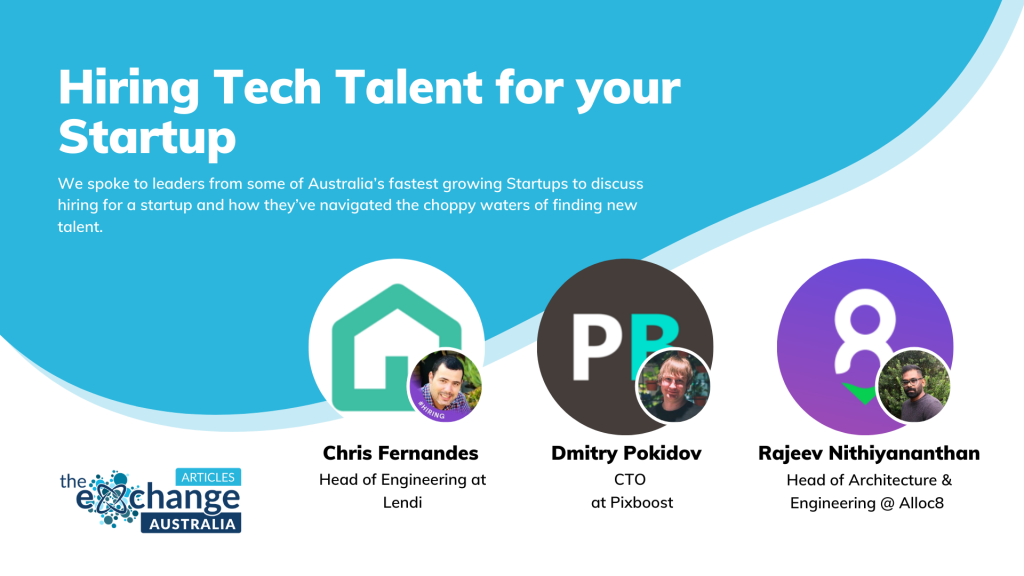 Hiring Tech Talent for Your Startup
As the 13th largest economy around the globe, Australia seems to be thriving in the economic sector lately. According to data from KPMG, Australia's economic success has happened thanks to a surge in venture capital investments, with a record of US$ 630 million.
Rather than just a boom, what we're observing is a maturing environment for startups. As time has passed, an ecosystem has developed and created a more sustainable place where it's easier for startups to emerge, and in turn that's provided a better environment for the viable among them to grow.
One aspect of growth that is particularly important to Startups is people. Hire too many people, and you might lose the values that are integral to a scaling company. Hire too little, and you might fail to reach milestones necessary to attracting investors.
We spoke to leaders from some of Australia's fastest growing Startups to discuss hiring for a startup and how they've navigated the choppy waters of finding new talent.
Why Startup Hiring Is So Important
When it comes to startup hiring, every action and every decision is critical. Because of the small team size, one additional employee has the potential to contribute massively and drive growth in the company. They also have the power to disrupt the workflow and organization. In this respect, the cost of a bad hire is more costly in startups where their contributions can tip the scales in favor of success or failure.
With the stakes so high, it should come as no surprise that startup hiring can become any founder's greatest challenge. To add to the challenge, startups often look for a special kind of hire: they want self-starters, professionally driven and passionate people. Founders look for A players, not just a B player that will get the job done. Finding the right talent is tough regardless of your industry, and like most other business activities in startups, will initially fall to the founder.
Rajeev Nithiyananthan, Head of Architecture & Engineering @ Alloc8
Rajeev Nithiyananthan is the Head of Architecture & Engineering @ Alloc8. Alloc8 is an end-to-end workforce management SAAS application. Alloc8's goal is to assist clients increase their revenue and find cost efficiencies through automation. With Alloc8, clients ditch paperwork, save time in scheduling jobs and increase employees' safety and compliance. Clients report that by using Alloc8, their business has increased their revenues by reducing invoicing errors and adjustments, resulting in fewer disputes. Their ideal customer is a client who requires their employees to travel from site to site, like a traffic controller, cleaner or consultant. They are not restricted to a particular vertical, Alloc8 is going from strength to strength with customers in Australia, New Zealand, Canada and with plans to expand into other regions where Alloc8's product can add value.
If you'd like to find out more about Alloc8, click here.
Rajeev looks after Alloc8's engineering practices, the growth of their technical teams and, working very closely with the CEO and Head of Product, Rajeev musters the wider technical team around Alloc8's global objectives.
We were keen to understand how Rajeev has built up his hiring process to allow for the constant flow of technical talent.
Getting the Interview Process Right
Startup interview processes don't fall too far from an established firm's process. The differences start to appear when you consider that startups and smaller companies don't have the resources to waste on hires that aren't the going to be the right fit.
For Rajeev, it's a simple two stage process. First stage is a phone interview to go through the CV to make sure the candidate knows what they're talking about.
"People write all kinds of keywords in their CV for their profile to be bumped up in searches., For example, someone else on their team might have managed a particular system and they'll put it up on their CV anyway. So, we take the time to talk to them to see if there is a correlation between the skills listed and their experience."
Progressing to the second stage, Rajeev likes to run the candidate through a technical interview that is accompanied by a few behavioral questions and scenario-based questions – which can be the key between getting an 'okay' hire and a 'good' hire.
"From a technical perspective, we needed to be more scenario based and allow room for the candidate to express their thought process. More recently, we have refined our process around hiring support analysts and support engineers. We now create a fake business that the candidate to work for and give them five or six scenarios around receiving and replying to support tickets coming through from customers. These scenarios mimic real-life situations."
Naturally, Rajeev had some reservations about this process change that some might think draws out the hiring process – but it's crucial.
"It's too easy for someone to look great on paper and be really good at talking about things, but you need to go one step further if you're going to find the right fit."
Certifications Aren't Everything
In my career as a technology recruitment consultant, I have seen many young team leaders fall into the trap of focusing too much on individual certification. While it's true they tell you a lot about a candidate, like their skill level and their ability to commit to something challenging and come through it, they don't always give you the whole picture.
And as a hiring manager, you need that whole picture to make a decision on someone who could be a costly investment for your company.
"When I first started interviewing, I was looking at Microsoft certificates, degrees and then I'd wrongly shortlist them based off that fact alone. And to my surprise, during the interview, they couldn't get through the first five open technical questions."
What a certificate doesn't tell a hiring manager is how good a candidate is at thinking through problems, how good they are at applying solutions and how good they are at sharing that knowledge and thought process with others.
"When I'm interviewing someone, I only talk about their work experience. And if they write in a lot of keywords, then I would make sure they can explain to me every single keyword that is of interest to the role and how that is related to the work they did. They could be aa genuine all-rounder or someone just fluffing up their CV."
Everyone is a Software Engineer
Retaining your tech talent is just as important as hiring them in the first place.
For Rajeev and the team at Alloc8, a subtle change to the way they handle seniority has made a massive difference to the lifetime value of those on Alloc8's technical team and has allowed them to encourage diversity of thought in any meeting.
"Everyone is a software engineer. You do not have a title that says how senior you are, and our structure for communication is flat."
If you've ever been the most junior individual in a meeting, you'll know this feeling. Even if you know you've got a great point to raise, you feel like you should wait – maybe they've already thought of it, they're more senior than me, after all.
For Rajeev, this was a killer for innovation and creativity in his team and his move to flatten the seniority in his team was to tackle this.
"If you're a software engineer, you're a software engineer and you're just as good as another guy with one year experience. How much you get paid should not be any difference to what you have to say in a room. And to that end, the CEO and I, made sure that all the titles got redone."
Dmitry Pokidov, CTO at Pixboost
Dmitry Pokidov is the CTO at Pixboost. Pixboost is an image content delivery network (CDN) that helps their clients to improve site speed by optimising images and making them responsive, so it make the website accessible from any device and network. Pixboost and Dmitry are currently in the process of finding investors but Dmitry has his sights set on building a diverse technical team as Pixboost scales up.
The Timezone is an Issue
Remote workers and companies experience lots of benefits—cost savings, less distractions, and increased productivity, to name a few. However, some challenges can present themselves in a remote work environment. If team members are spread out over states or even countries, working across time zones can get tricky. This is also the case when it comes to hiring new talent for your start-up – getting it wrong could be a mistake a start-up can't afford to make.
"My personal preference would be to hire someone in Melbourne, or in Australia. I think that timezone is a limitation."
Focusing on hiring people locally means that Dmitry can focus on building a flexible working culture for his team that he, as a founder, is enjoying.
"I like to go for a jog or spend time with my daughter or do something else. Nine to five doesn't make much sense to me. What if you wake up and you just don't feel it? I want to be able to build a business where all the people in the company can be flexible. Getting local talent might be the best way to build that."
Chris Fernandes, Head of Engineering at Lendi
Originally from Brazil, Chris Fernandes studied computer science with an eye towards working with hardware as opposed to software. Over the course of his career, however, his passions shifted towards the software side of technology.
Working as a software engineer at the start of his career, Chris quickly realised that you don't need to be a manager to be a leader.
"I truly believe that everyone can be a leader (regardless of their hierarchical position), even a junior engineer, you can lead a small task to a large project, as long they lead from front, guide people to the right solution, takes responsibility and influences others positively. I was "lucky" to realize that early on my career, and that helped me to shape my path
It wasn't until later in his career, however, that he set himself the goal to become a CTO or Head of Engineering. To get there, Chris was going to expose himself to as many opportunities as possible.
With background in Java, Chris started exposing himself to PHP, JavaScript, and other type of things when the opportunity to go to Australia came up.
I had the opportunity to become a solution architect, technical project manager and work in various types of projects, but just when I moved to Australia, I was presented the opportunity to lead a DevOps team in a startup. This way by taking a planned winding path, I've gained practical knowledge of many areas and developed a critical set of skills that was I can apply to my future roles"
After a successful few years at the startup and a few more years at Service Rocket and later as Head of DevOps at Toll Group, Chris joined home lending platform, Lendi in April 2020.
Although not currently working at a start-up, Chris' insights into how build high-performing technical teams is a valuable none-the-less.
Autonomy and Building Balanced Teams
Without an environment of authentic autonomy, your workforce is limited by both overt and subtle controls and influences. While workplace rules, policies, and expectations are absolutely necessary for a functional business environment. This is true from six-person start-ups to enterprise level corporations.
It is this same guiding framework that can suffocate the life and creativity out of a collaborative team if left unchecked. The structure designed to facilitate and leverage your employees could be what is extinguishing their ability to thrive, expand, and grow.
For Chris, Autonomy is one the guiding principles that has allowed him to develop high-performing technical teams wherever he has gone.
If the team feels they're in charge, rather than "forced" to do the project, the outcome will have a tremendously positive effect. I've seen this firsthand and believe this enables team autonomy, empower and driver's commitment.
My role is to make sure they understand the vision and our goals. If for any reason, they are far from those, we discuss and understand why."
Retaining Talent
Attracting top talent is challenging. Motivating talent is a fine art. Retaining talent can pose the ultimate challenge, especially for a startup. Effective employee retention requires planning and strategies.
Retaining talent requires that management be fair, balanced and open with everyone. This can be hard when your business goes through lean times. But employee retention strategies need to be in place well before any crisis arises, or they will lack lustre.
The strategies themselves don't need to be groundbreaking. Simply listening to what your team needs and working to provide solutions and challenging projects is usually enough.
For Chris, one of the policies he's helped/worked on implementing at Lendi is what they call the 'Flex First' policy – a remote working policy that allows people to choose when they want to work. This was an initiative that was started before COVID-19.
"I'm committed to rebalancing the equation and allowing our people to feel more in control. For my team, this is about living and working with purpose and most importantly balance.
At Lendi, our focus has always been to build a workplace that is diverse, unique, fun and fulfilling for everyone. Part of this has always included the opportunity to work more flexibly as it suited the individual and the team."