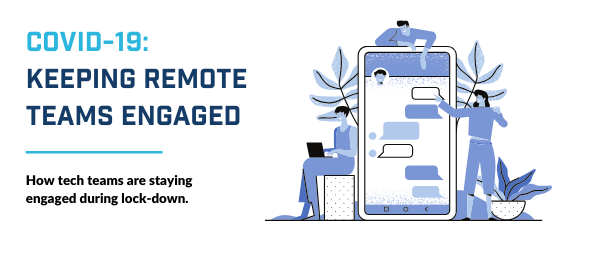 Keeping Remote Employees Engaged – How Technical Teams are Responding to Covid-19
Keeping Remote Employees Engaged – How Technical Teams are Responding to Covid-19.
According to Deloitte, 87% of today's business leaders cite culture and engagement as one of their top concerns. And a worldwide Gallup poll found that only 13% of employees stated they are actually engaged at work.
Before we were all forced to work in isolation as a result of Covid-19, employee engagement was something that many business leaders spent significant time trying to figure out.
Traditionally, engagement was viewed as a stand-alone problem. This leads leaders to think that if they could just solve the issue of engagement, they'd suddenly have a more productive, higher-performing workforce. But genuine employee engagement is woven into the very fabric of the organisation – the leadership, culture, communication, and talent development. When you begin to create change in one of these areas, it creates a ripple that affects many others.
But now, when teams are forced to operate apart from each other, true engagement is more important than ever.
To contribute to the employee engagement conversation during this time, we reached out to technical teams around the world who were now operating with distributed teams. We asked them a number of questions and now we're sharing their answers in these articles in the hopes that their stories might provide inspiration while adjusting to new and unusual working practices.
We recommend checking the World Health Organisation's website for the most accurate and up to date information on Covid-19.
Three Key Drivers of Employee Engagement
Before we get into the team's comments, it's important to note what drives engagement.
A 2012 report published by Dale Carnegie Training found the three key drivers of engagement.
We offer these 'key drivers' forward with full recognition that there will never be a silver bullet for what keeps employees engaged, people are just too complicated. Instead, think of these more as good places to start when considering how you can improve your employee engagement.
1. Relationship with immediate supervisor
The person responsible for your day to day success is usually the person you trust and listen to the most.
As business leaders it's sometimes best to concede that you're never going to be able to get enough time with each individual person to develop that one-to-one relationship immediate supervisors have.
So, take a step back.
Work closely with direct supervisors to support them with this relationship. Coach them on behaviours to look out, steps to take and empower them to build that relationship to keep key staff engaged.
2. Belief in senior leadership
That said, senior leadership still sets the tone and direction of the company. It's up to senior leadership to give the overall direction of the company, ensuring that it's clearly communicated and easy to understand.
Where possible, you should strive to make this a collaborative venture. Reach out to your staff and ask for their thoughts on the direction of the company.
3. Pride in working for the company
Hearing people talk about working for your company with pride is the hallmark of a company that cares and engages employees.
Think about your Corporate Social Responsibility (CSR) now more than ever, when companies who have the resources can make a real difference to employees who may find themselves at significant risk.
As you read the stories from technical teams still operating you'll notice a few of these 'drivers' being talked about as key elements for engagement.
How Technical Teams Across Europe Are Maintaining Remote Employee Engagement
We spoke to a wide range of different technical team leaders about how they're coping with the current climate.
Of particular interest was how they're continuing to maintain employee engagement while everyone operates remotely.
UK
The UK was put into lockdown on 23 March in an unprecedented step to attempt to limit the spread of coronavirus.
Schools, public spaces and places of work were closed down to halt the spread. For those that weren't already working from home, this announcement signalled the start of a period of isolation for many of the working force in the UK.
We spoke to a few tech leaders in the UK to see what they're doing to support the staff who continue to work for them remotely.
Claire Thompson, CEO, Agility Health
Claire Thompson is the CEO of Agility Health and an Award-winning pharmaceutical scientist, strategist and innovator with 15 + years' experience in developing pharmaceutical products in global companies, virtual biotechs and contract research organisations (CROs).
Now in amongst Covid-19 outbreak, Claire and her team at Agility Health continue consulting globally to healthcare and technology companies, ranging from spin-out to multinational companies, on how to fast track their technologies to market and help them to convey the benefits of their science through impactful communications.
With her team now distributed and working from completely different locations and in completely different situations, she's had to get creative with how she keeps her colleagues engaged.
"Well over half of all of my colleagues have children at home and at times like these, people's priorities are naturally shifted."
The natural response for business leaders might be to double down on routine and provide structured days for staff who would normally be around for physical check-ins.
Claire, however, believes her more trusting approach is leading to increased engagement and increased productivity.
"We have a WhatsApp group to stay connected, as well as video calls with all staff and customers."
And this approach may well be fostering increased productivity, as according to a peoplemanagement.com survey, 39 percent of people who mostly work from home often work additional hours to complete their tasks compared with 24 percent of those in fixed workplaces. On average, those who work remotely work an extra two hours over their 'in-office' colleagues. This is largely attributed to not being reliant on office equipment and being set up easily at home to handle requests at any hour.
Many remote working critics will tell you that it's the isolation and lack of presence in the team that damages engagement and productivity. And while it's certainly true that someone working from home would be missing out on the workplace banter, the access to other people's feedback and thoughts with just a swivel of a chair.
But in some situations, those things are the problem. The workplace itself may be a source of massive distraction for those who need to get stuck in to deep, complicated work. In a 2019 Flex survey, it was found that 75 percent of people choose to work remotely because there are fewer distractions.
Subscribing to this methodology, Claire trusts her colleagues to get the job done, but she still holds herself accountable to meeting regularly.
"80% of my workforce have children including her – Wellbeing over workload is my motto."
Chris Gilbert, Head of Software Development @ Blue chip
Blue Chip is a British based technology company that provides the infrastructure and hardware maintenance behind many of the largest brands in the UK.
"I manage the software side. We write our own data centre monitoring software, we manage the internal applications, we're doing infrastructure automation, and predictive analytics."
Chris has 30 direct reports and an additional 20 software developers who he is accountable for. Like with most software development teams, Chris and his team operate with a high level of autonomy, transparency and flexibility.
"It's the expectation of software devs to not have to be in the office. We also have another development team in Sri Lanka so it's a necessity we can work seamlessly while remote."
Engagement with his team has been seamless with little to no direct changing being made to how they operate on a day to day. Where major changes in employee engagement are being seen are in the wider business.
"A lot of the tools we've introduced to the business have now proved absolutely critical. Tools software have been using internally, like Zoom, JIRA , these tools that allow transparency and ease of communication are now being adopted by the wider business with our guidance."
Chris expects to see this becoming commonplace and suspects many businesses will now begin to widely adopt software development working processes and practices after the lockdown is lifted. Those who have worked through this period will come out the otherside with a new frame of mind around how they can and should be working. Something that many will hope will rub off on senior leadership leading a step in the right direction towards more flexible working for all.
"I also expect the framing of questions to be changed. I used to be asked, 'why aren't the devs in the office'. Now i'm hoping i'll be asked: 'Why don't the developers need to be in the office?'"
But of course, engagement isn't always a question of what processes or tools you can provide, employee engagement at these times is also about what you maybe shouldn't be doing. This 'disruption avoidance' was something Chris witnessed in the early weeks of lockdown at Blue Chip.
"For the business, there was a reluctance to push on with things that might cause disruption, justifiably so. Major projects or delivery of projects that would change the way people work were being delayed and paused."

But instead of pausing these projects completely, Chris' team found a way to provide the same level of support the wider team expects when onboarding new software.
"We had a major software release that was paused but now it's being released. People are used to someone coming over to their desk to walk them through it, instead, we developed video walkthroughs and dedicated time to onboard people virtually."
But it's not all work at Blue Chip with the business enjoying a raft of engaging non-work related activities designed to not just keep staff engaged, but their families too.
"We've got a really good L&D guy who has done some amazing work with virtual breakfasts, we have a kids club on Wednesday. These are all done over zoom. This really helps people get over the lack of social interaction."
Nordics
Strategies in the Nordic countries have been different from that of the UK and European countries, with some countries, like Sweden, only just entering full lockdown at the start of April.
We connected with a few Technical leaders in the Nordics to discuss how they're responding to the outbreak and how they're keeping technical staff engaged.
Fredrik Mistander – CEO at Invoier
Fredrik Mistander is the CEO @ Invoier, a Swedish company that specializes in billing analysis and provides a marketplace for factoring services.
"A friend of mine called me up and said i should look into the 'factoring business'. I wasn't convinced at first – after having had a past in gambling I didn't know if I wanted to be in another business grey zone. Then I realised this was a huge societal problem and we could really make a difference."
A passionate snowboarder who had one too many crashes, Fredrik, along with a few of his friends, founded Invoier with the goal to help SME's with their finances.
Having successfully established itself in the Nordics market, Invoier secured funding to expand into Europe before the outbreak of Covid-19, and aren't looking to slow down. They're currently upscaling their team during the Covid-19 crisis with their last hire being made just 3 weeks prior to the publishing of this piece.
With financial backing and a strong product, Invoier is able to continue to run interviews and look for the technical talent that will ensure the success of their European expansion.
But, like most companies who want to maintain their growth, changes have had to be made.
And one big item for discussion for many tech teams as they enter the murky waters of business during Covid-19 is the place of consultants and contractors. Many will see the quick cost-saving opportunity in letting contractors and consultants go, but others will see the opportunity to quickly scale their productivity with technical talent who are already used to working in remote conditions. For Fredrik and Invoier, it isn't just the scaling of talent and productivity that needs to be considered, but also the scaling of culture and engagement.
"With the funding in order we have a split strategy when it comes to building a team. Part of the budget is focused on hiring consultants while the remaining part is reserved for finding long term talent to build a permanent team."

"But we have to consider building the company value, in regards to VC's, who not only want to see the product building but also the team. Our investors want to see the team growing in people who are committed to the company, and that can be hard when you work with consultants."
Invoier will continue to advertise for both permanent and consultancy roles and are adjusting the way they onboard and engage with this talent. With Fredrik putting particular emphasis on ensuring the company has communicated the impact they want to make.
"We just need to stay on top of our culture and our offerings, making sure we provide our team with fun challenges. We focus on building a culture and a strong employer brand, not only specifically for tech tasks, but also the overall goal of the company and what kind of impact we want to make?"
But how do you do that when your teams are already stretched and your face-to-face contact is restricted? For Invoier, it's about taking time to find hires that set a president.
"So the first person we brought along, she set the company structure in terms of values and culture. We're hoping the people who follow will have the same methodology. We want that to be the secret sauce for keeping staff for the long haul."
One of the benefits of working in technical teams is that the decision to close public and working spaces will not pose too much of a problem to teams who are largely all integrated using remote tools. The problem, which Fredrik and Invoier quickly found, was keeping staff, particularly new hires engaged without face-to-face contact.
"We have a new member of the team. She's been here for three weeks and we've only met her twice. It's hard to build connections between the team. All of us look forward to being back to a normal office 9-5. At least for a few weeks."
Fredrik ensures that his teams attend regular 'Fika Breaks' and makes sure he catches up with everyone he can on 'walks and talks' where possible, especially when he's looking to hire for a new role.
"You always want to meet the person at least once but probably at this stage, we're having two interviews later which will be a video call and the next stage will be a walk and talk. We can take a walk, but we can't talk too much. So we had to change the way we interview. Less question and answer and more a discussion around their skills with a follow-up exercise."

Marcus Ljungberg, Tech Lead at Ping Pong AB
Marcus Ljungberg is Tech lead at Ping Pong AB, which offers a platform for education with various functions for tests, questionnaires, and assignments. Ping Pong school, academy, business, and government sectors in Sweden.
"My role is Tech lead, which is more hands-on. I code every day. We're a team of 7, including myself."
Day to day at Ping Pong AB has largely been unaffected, with more schools closing and being forced to use systems like the one Ping Pong AB designed and operates. Their adjustments come in the form of challenges facing a team used to seeing each other every day now only seeing each other over video.
"As a team, of course it has affected us. When I was at Klarna it was a lot of pair programming and mob programming and we tried to take that methodology over to Ping Pong. It didn't really work.

We have pivoted into dividing stuff. We use Slack as an instant messaging service and hangouts. We have spent more time trying out and looking for new tools than we will actually spend in them.

We also started using Discord so we could have different themed channels people could jump in and out of, to try and replicate the 'team environment' we had in the office."
The idea of setting up different channels themed around certain projects is an attractive one. It maintains the same 'compartmentalized' feeling of a regular working day and gives you a physical 'switch over' to compliment the mental one you make when you move on to another task.
Another important note for Marcus and his team is ensuring that processes are still followed.
"We're still making sure we're focusing people on the 'works in progress'. When you're working from home people get sloppy on aligning their workdays. If you don't have kids or a family, some people start twisting their hours and before you know it you're working at night.

So we make sure we have tools like Trello to help people stay on track."
Marcus' team has halted hiring for now but other technical teams in Ping Pong AB are continuing to look at both permanent and consultancy based talent, an approach that Marcus believes in wholeheartedly.
"When this is over, it's going to be a boom. If you invest in talent now I'm certain you will gain later.
Generally, a lot of people are cutting consultants because of cost and in three months' time they will rehire them. But for me, it's too hasty to do that."
How Are You Keeping Your Employees Engaged Through Covid-19?
Have you got a story you want to share? If you're a hiring manager who is working hard to create an engaging employee experience or someone who has benefitted from a different approach to engagement, we want to hear from you.