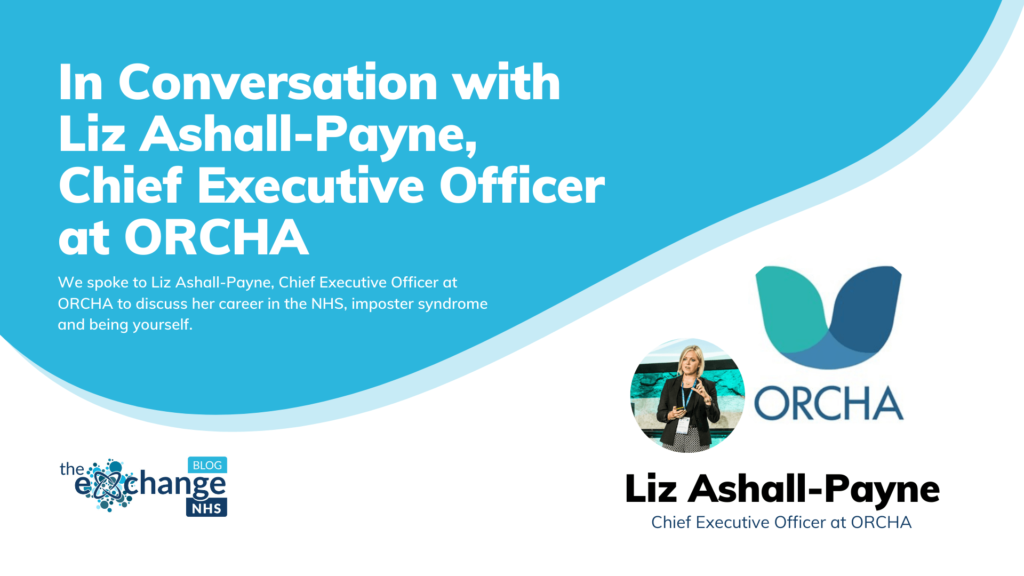 In Conversation with Liz Ashall-Payne, Chief Executive Officer at ORCHA
We spoke to Liz Ashall-Payne, Chief Executive Officer at ORCHA to discuss her career in the NHS, imposter syndrome and being yourself.
Liz's story is part of a series of articles highlighting the careers of female tech leaders. We've brought together these stories in an effort to prove that the route to leadership is never a straight line.
Founding ORCHA
Starting her career as a speech-language therapist within the NHS, Liz developed her specialism in complex paediatric care and became a clinician. With a strong passion for helping as many people as she can, this move to clinician came with some frustration for Liz.
"I could only see one patient at a time and the waiting list was just growing every day. I got a bit obsessed with trying to cut out waste so I could see more patients in the time I had in the day."
Managing to get her own capacity from six to ten patients in a day, Liz turned her transformative powers to the service as a whole. It was here that Liz realised the inefficiencies in the service and that if change doesn't happen, then care will never reach everyone who needs it.
With digital health technologies becoming standard practice towards the start of Liz's new venture with the Academic Health Science Network, Liz had the opportunity to transform service at scale with access to new tools, but the tools came with their own set of challenges.
"We had all these amazing technologies that nobody knew about nobody would use because they didn't trust them. And so I was back to being reduced by my own capacity, I was then back to having to try and convince people to use these tools. And I thought this is ridiculous, we need to have a systematic approach to getting people to know which tools can be trusted, and therefore promoted to patients."
Liz never intended to set up a company and build a product, but her obsession with finding solutions to providing care at scale necessitated it.
Now the Founding Chief Executive of the Organisation for the Review of Care and Health Apps (ORCHA), Liz and the team are reviewing and approving digital technologies for healthcare organisations. Liz's vision may have given life to an entire organisation but, at its core remains the same passion for providing care to as many people as possible.
"Reviewing the technology is just a means to an end, our mission is to get high-quality digital health tools to people who need them."
Leaping Into The Unknown – Twice!
Liz, who spent over 20 years in the NHS, attributes her long tenure to her commitment to service transformation and system leadership. Starting as a Clinician and moving into system leadership on both a national and international standing, Liz has seen the NHS from many different perspectives. This, combined with her own penchant for fixing and finding solutions, has enabled her to provide solutions that truly connect with the needs of the people it serves.
Looking back on your own career, or looking at someone's like we're doing now, it's easy to forget the weight of the decisions we made in the past. For Liz, leaving her clinical role to take on more transformation work was a massive leap into the unknown.
"It was a massive part of my identity and when I was struggling to keep up with my clinical time for revalidation I had to make a decision: Am I just going to keep my toe dipped in the clinical water? Or am I going to really properly invest in what I actually want to do now? So that was a difficult decision."
It's a decision we all have to make at some point in our career. Stepping out of our comfort zones and committing to something new is never easy, and should never be something we take lightly. For Liz, the jump was the scariest part and everything that followed was perfectly manageable and exciting.
Making this leap once in a career is hard enough, but to do it twice is unheard of – unless you're Liz, of course, who left a full-time job to found ORCHA with a family to think of.
"I remember writing down how much money I needed to maintain my life in a very practical way. I literally costed the move-out and worked backwards from that sum and made sure I had that much money every month."
With ORCHA not making any money at the beginning, Liz worked as a consultant while her partner continued to work and provide some financial stability. For Liz, who has always been an incredibly independent person, this was a bit of a shock to the system.
"If I'm honest, the day after I left my full-time job I woke up thinking: Oh my gosh, what have I done? What have I done? And part of that was because my parents were saying, What are you doing? You're walking away from nearly 20 years worth of employment and a pension."
Getting through this period, for Liz, was about perseverance and a commitment to the same passions that really drove her to this decision. With this in mind, Liz quickly developed a pragmatic mindset that has helped her in her new venture.
"I started to take it one day at a time. What's the next thing I need to do? Get up tomorrow? What am I going to do today? I was breaking everything down into tiny steps and honestly, it's the best thing I've ever done."
A Learning Opportunity
In a recent report, PR agency Tyto announced the most influential people in the UK Tech scene in 2020. Behind Matt Hancock and Richard Branson was Liz.
"I was laughing my head off, reading this while eating my breakfast."
Imposter Syndrome is something we all suffer from. For Liz, questions like 'how did I get here' are a daily occurrence. Overcoming it isn't a simple matter but Liz believes that focusing on learning and development is one way to keep yourself level headed.
"And I've got so much more I need to learn from and it's a learning privilege for me more than anything, a continuous learning opportunity, about the sector, about myself about how I do things, how I shouldn't do things."
Be Yourself
For those looking to follow in Liz's footsteps by either making a change to their career or by starting one, Liz has this advice;
"Be yourself. It sounds so basic but it took me 20 years to learn to be myself and be the best version of myself. To do it, you have to show a level of vulnerability and then understand that you don't need to be an expert on everything."
Reflecting on the leaps she's made in her career, Liz also believes it's important for people to focus on doing what they believe in.
"Passion is so important because when it gets hard, it's that passion that will get you up in the morning and get you back onto it. And it's interesting for me at the moment, and you know, I've got a 15-year-old son, and he's going through career options. He's talking about A-Level Maths because it's a great skill to have. I'm saying, Do you love it? Because if you don't, don't do it, do what you love and you will find a way through because it's that passion that will absolutely get you wherever you want to get to."