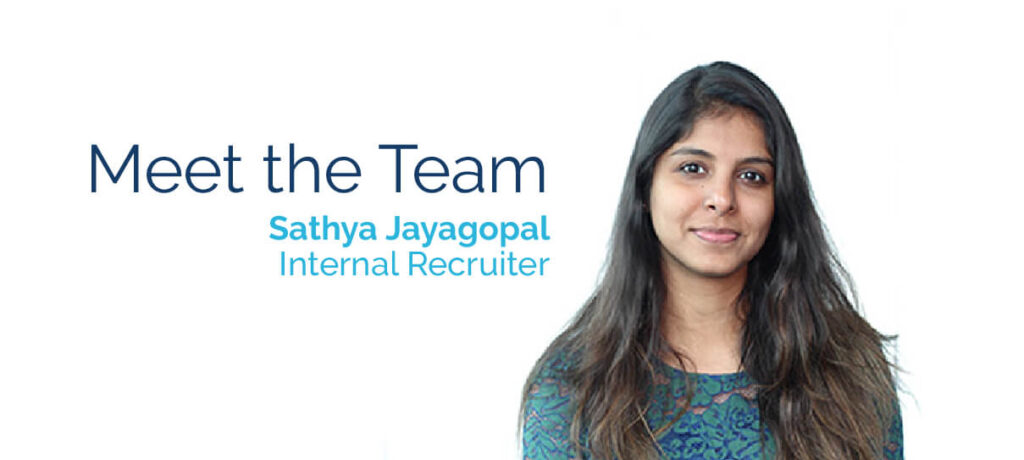 Meet the Team: Sathya Jayagopal
Wonder how we managed to put together such a great team in Evolution Singapore?
A big part of it is due to our Internal Recruiter, Sathya Jayagopal. Sathya had been in the recruitment industry for a few years prior to joining Evolution. Here, she shares why she made the switch to Evolution 3 years ago, and her journey since joining Evolution.
1. Tell us how you came to be in Evolution. What were you doing before Evolution?
Prior to Evolution, I was working for a multinational recruitment firm and I specialised in
technology recruitment. After some time, I decided that I wanted a new challenge and a
change of environment. It was very timely that Chris, our regional director, approached me
through LinkedIn during the exact period that I was looking for a change. I met him, had a
better understanding of Evolution and was convinced that this was the organisation that
would take me to the next step in my career.
2. What is your favourite memory in Evolution?
Not many companies in this industry provides quarterly incentive trips. Evolution took the
entire Singapore office to Bali as a reward for hitting the Q1 target in year 2015. That was an
amazing trip and I loved the team bonding activities like river rafting, bike rides, etc. We had
an awesome time.
3. What was your favourite activity in Evolution?
Go-kart!
4. What has been your biggest challenge?
As an Internal Recruiter, I recruit people to join Evolution. For me, the biggest challenge is identifying the right people with the right attitude. They need to fit into not just the business, but also our culture. The industry seems very big but it is actually very small. Another thing I realised while doing internal recruitment is that the turnover rate in this industry is typically high and the number of good recruiters out there is very low.
5. What is your biggest success up until now?
I feel that doing internal recruitment in an agency environment is one of the toughest job.
However, I am glad that I took up this role as I believe that I can add value to this business by
getting the right people to join Evolution.
My biggest success is seeing the people we hire perform well. Not all hires are right hires.
We are pretty stringent with the hiring criteria, looking beyond aptitude and also at aspects
such as attitude, values and culture fit.
6. What does your perfect day look like?
My perfect day would be a day of meetings with recruiters and other professionals who are
keen on joining Evolution. I don't just get the chance to share with them about Evolution, I
also get updates about other companies and the industry.
7. If it's my first day of work at Evolution, what would you say to me?
I always give candidates a clear and transparent picture of their career path in Evolution
before they join us. As a company, we always support and encourage our staff. To a new
colleague, I'll them about Evolution's culture, introduce him/her to the team and encourage
them to ask questions. I will advise them to always project high energy, be a good listener
and work hard.
Check out these stories of other consultants:
Meet Our Consultants: Sonam Sawalani
Meet Our Consultants: Genevieve Seah
Want to know what's it like to work at Evolution? Ask the people who lives the Evolution Experience everyday! Submit your questions to Fengting at Fengting.lee@evoluionjobs.sg or Sathya at Sathya.jayagopal@evolutionjobs.sg
Love this article? Share it!